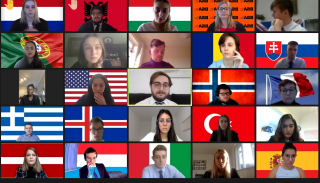 BISA/FCDO virtual Model NATO sees over 70 students gain transferable skills
This article was published on
On Friday 29 January over 70 students from 15 UK universities took part in the annual BISA Model NATO. This year's event took place online via Zoom and was run in partnership with the Foreign Commonwealth and Development Office (FCDO) and NATO's Public Diplomacy Division.
We were delighted to start the day with a welcome from NATO Assistant General Secretary Baiba Braze. The Model then commenced with several sessions of NATO's North Atlantic Council – supported by Home Government – dedicated to dealing with a major natural disaster. Students had to think on their feet in response to an earthquake in the eastern Mediterranean followed by volcanic eruptions and tidal surges that overwhelmed the territory of several allies. 
Each student had been given a NATO nation to represent and had done research into their country's resources and political positions prior to the event.
Mark Webber, BISA Chair and a NATO specialist, said:
"Model NATO gives students an insight into the challenges of making decisions in a large international organisation. It generates understanding of the many capabilities and constraints that shape the foreign policies of NATO members in determining matters of collective security. It also allows participants to develop skills that are transferable to other settings – in regard to education, employment, and volunteering.
Dec Greaves, a participant from the University of Surrey said:
"As someone who had never participated in a Model UN or NATO before, I came into it pretty unaware. But I quickly found myself completely invested! To find areas of agreement with other allied states not only built on my people skills, but made me aware of the varying levels of negotiation within diplomacy."
Mark Webber also interviewed students from Kings College London, University of Westminster and University of Newcastle about their experience. The recording can be viewed below.
Towards the end of the day we were lucky to be joined by the UK Deputy Permanent Representative to NATO, Nick Pickard. Nick gave the students a valuable insight into NATO's work as well as the everyday challenges that face diplomats in a complex, consensus-based organisation.
To conclude the event BISA Director Juliet Dryden, announced the winners of the Model's two prizes. University of Stirling student Alex Johnson (representing Luxembourg) was declared the winner of the Distinguished Delegation Award; Queens University Belfast students, Joseph Reilly and Sunniva Henden (representing the United Kingdom) won the Outstanding Delegation Award. All students received a commemorative certificate for their participation in the event.