Award for Early Career Excellence in Teaching International Studies
The aim of this annual award is to recognise those early career academics, or teams of academics, who have contributed to the positive learning experience of students in International Studies within the first five years of their career. This could include bringing new ideas to existing higher education institutions and your current teaching, or creating the beginnings of new innovative teaching pedagogical theory, styles, practices, or methods. Your contribution needs to be clear but at this point in your career can still be in its early stages or drawn from a very specific instance.
There has never been as strong a focus on learning and teaching as there is now. Winning this award could place you at the forefront of inspiring others to develop teaching excellence.
The award winner will be decided by our Learning and Teaching Subcommittee. The winner will be formally announced, and the award presented, at our annual conference.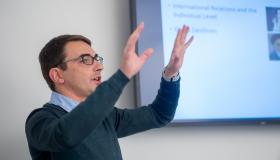 Nominations and guidance
You can nominate yourself or colleagues for this award. Departments are asked to encourage and support outstanding teachers to apply. This award has been furloughed until 2022.
To nominate please complete our online form. You'll need to write a statement of case (max 1500 - 2000 words) and supporting evidence. We're particularly interested to hear about innovative teaching practices and their impact on the learning experience among International Studies students. Your explanation and evidence should include at least one, but can include more, of the following:
positive contributions to learning and teaching;
use of innovative teaching strategies;
meeting the needs of a diverse student population;
sharing of good teaching practice with colleagues;
stimulating independent learning and critical thinking.
Supporting evidence should also be submitted to clearly demonstrate the outcomes of the good teaching practice. Such evidence may include recent formal and informal feedback from students or peer review, student testimonials, a short statement of support from a colleague, or details of relevant publications and conference papers. Supporting materials can be uploaded as a single pdf document.
Conditions of the award
If you win this award you'll be expected to present a paper on your teaching innovation at our annual conference. We'll also ask you to write an article (500-1000 words) to be published on our website summarising your award-winning teaching activities. This article must be submitted electronically to the BISA office within one month of the presentation of the award at our annual conference. Undertaking these activities will mean that your best practice can be shared amongst other colleagues both in IR and further afield.