Article
Event summary: Navigating conferences
This article was published on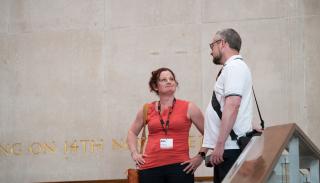 On 24 May 2023, the Postgraduate Network welcomed Ruth Blakeley and Kyle Grayson for an interactive session on how to navigate conferences. As many of us will be attending our first in-person conference/event/seminar in the coming months, this session was very useful in providing some tips and tricks on maximising this experience and getting the best out of it. The facilitators covered a wide range of issues such as networking, presentations, abstract writing and so on. These are listed below.
Networking
Networking can be a challenging and daunting task especially for early-career researchers who will be attending a conference for the first time. One of the best ways is to propose a panel with researchers working in similar areas. Every working group will most likely have meetings during the conference so if you are part of a working group, reach out to the convener to inquire when and where these meetings/catch ups will happen at the conference venue. Always remember, others feel just as lonely at a big conference as you do so don't be afraid to spot other panellists and reach out to them during breaks. You can also go through the programme/agenda, identify scholars that are working on similar topic, establish contact over email and enquire if you can fix a time to meet during the conference. This can be a good conversation starter to approach people in such settings. It is advisable to attend only two or three panels per day to be able to engage constructively with each panel topic and presentation. Any more, and you might feel mentally saturated and physically exhausted.
Preparing for your presentation
If your panel consists of four presentations, you have approximately 15 minutes (with five panellists, approximately 10 minutes per presentation). Focus on making your presentation clear and concise by summarising of findings in the introduction. Power point is not necessary and in fact, for some topics may even distract the listener than aid the presentation. You can use notes but try to maintain eye-contact with the audience and engage in an animated conversation. People like stories. You can use storytelling as a tool to make your presentation interesting. Engage people with your research by quoting personal stories. Humanise your research!
Difficult questions
Don't be afraid of tricky questions. If you feel like you don't have an exact answer, you can always say, "That's an interesting question. I would love to chat with you about this over coffee", or "That's an interesting way to look at the topic, I will think more on this and get back to you". While answering questions, feel free to give context/background. Don't assume that everyone in the room knows more than you, no matter the seniority of academics presents in the room. No one knows more about your research than you do! Believe in yourself. Thus, don't worry about how you pitch your answer. Remember, you are pitching the answer to not one but everyone in the room and someone may find the information useful.
To end with, think about why you are going to the conference and what's your purpose. Most importantly, don't forget to enjoy and immerse yourself in the experience.