News
International and regional foreign policies in action: Armenia and the EU
This article was published on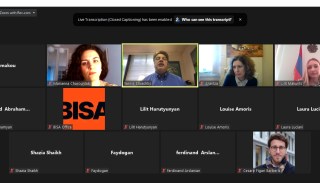 On 3 November 2022, the FPWG hosted an online event titled 'International and regional foreign policies in action: Armenia and the EU'.
Armenian Ambassador to the United States, H.E. Lilit Kamo Makunts, spoke about the major foreign and security policy challenges facing the Republic of Armenia, its priorities, as well as the current political landscape. Professor Yannis Stivachtis from Virginia Tech provided an assessment of the European Union's policy towards Armenia with particular emphasis on the Nagorno Karabakh conflict. 
The following discussion focused on how to prevent rather than deal with a conflict. Here the focus was on the EU and the constraints in its foreign policy practice.