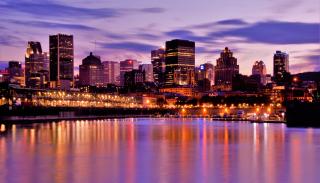 BISA at ISA 2023 in Montréal
This article was published on
We're delighted to announce that we'll once again be joining colleagues at the International Studies Association (ISA) conference in Montréal in 2023.
We'll be holding our annual BISA reception on Thursday 16 March from 6.45pm at The Sir Winston Churchill Pub. The pub is located just a few minutes' walk from the ISA conference venues in the heart of downtown, and is considered the founding establishment of the famous Crescent Street. At the reception we'll showcase our two highly-regarded academic journals – Review of International Studies (RIS) and European Journal of International Security (EJIS), as well as our fantastic book series which consists of over 150 books. Come and meet us, the journal and book series editors, as well as Cambridge University Press, over a free drink. There'll also be a short update from BISA Vice-Chair, Kyle Grayson and BISA Director, Juliet Dryden and a supply of delicious canapes.
Please register for your free place now so that we have an idea of numbers for catering, and don't forget to put it in your diary!
Secondly, three excellent BISA-sponsored panels were accepted through our partnership with ISA:
Critical Studies on Terrorism Working Group - "Putting terrorism back in the box? The "return of great power politics" and its effects upon terrorism dominated security agendas, WB64: Wednesday 10.30am – 12.15pm
International Studies and Emerging Technologies Working Group - From Offline to Online: Cooperation and Conflict in Contemporary Politics, TB66: Thursday 10.30am – 12.15pm
European Security Working Group - The war in Ukraine, the defence of Europe, and European defence, SB61: Saturday 10.30am – 12.15pm.
A few weeks prior to the conference, we'll publish our BISA/ISA hub page where we'll give details of complementary articles, summaries and videos for before and after these panels.
BISA Director, Juliet Dryden, will be speaking on two roundtables: 'The benefits and pitfalls of practitioner-academic exchange' (Wednesday 8.15-10am, WA41); and 'The role of think tanks, journals and professional associations in fostering inclusion' (Friday 1.45-3.30pm, FC12). Vice-Chair, Kyle Grayson, will act as the discussant for 'Now we see the violence inherent in the system: Visual images, statecraft, and the production/dissemination of the international' (Saturday 8.15-10am, SA69). Several other BISA trustees are also taking part in panels and roundtables.
In addition, representatives from our journals will be attending the conference. Both journals will be represented at the roundtable 'Meet the Editors: publishing in the leading journals' which takes place on Friday, 1.45-3.30pm (FC23). All three of the lead editors of European Journal of International Security (Jason Ralph, Jacqui True and Edward Newman) will be on panels during the conference, and several of the Review of International Studies editorial team also - including Matthew Paterson, Nisha Shah, Maja Zehfuss and Andreja Zevnik. You can find out more information in the full ISA programme.
We look forward to seeing many of you there.