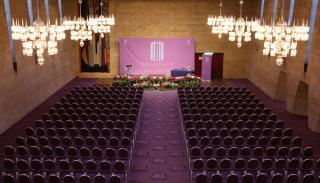 #BISA2022 keynote roundtable confirmed - 'Scientific challenges and global governance'
This article was published on
With less than a week to go before the participant deadline for registering to attend #BISA2022, we are delighted to announce our keynote roundtable entitled 'Scientific challenges and global governance'.
This year's annual conference takes place from 15 to 17 June 2022 in Newcastle-upon-Tyne. There will be three days of inspiring, provocative and diverse panels and roundtables, and a virtual stream on Tuesday 14 June. Additionally, there will be a conference reception at Wylam Brewery which resides in the spectacular Palace of Arts, a Grade II listed building, a 'Question Time' style event on austerity politics, a 5k Toon run and much more.
The keynote roundtable will consider the impact the pandemic is having on global governance and global security, and how efforts to prevent and respond to new and continuing global emergencies, frequently human-made, such as climate change and unregulated technological and scientific advances (for example, artificial intelligence) are playing out in the current geopolitical environment. 
The participants are:
Professor Wendy Wong, Department of Political Science, University of Toronto
Professor Stefan Elbe, Director - Centre for Global Health Policy, University of Sussex
Professor Lorraine Elliott, Department of International Relations, Australia National University.
The roundtable will be chaired by Dr Georgina Holmes, Imperial College London. More details will follow when the final programme is released.
In the meantime, if you have not already done so, please register to attend the conference via the conference website. Registration for anyone appearing in the conference programme ends on Tuesday 15 March at 9am (UK time). Registration will still be open after this date for anyone who is not on the programme.
Both the main conference and the virtual stream draft programmes have been published. Our conference is renowned for being inclusive and friendly, and you don't have to be presenting a paper to attend – all are welcome.