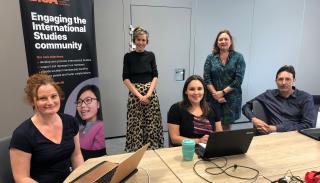 Call for nominations to serve on the BISA Executive Committee
This article was published on
We're pleased to announce that we have four trustee positions up for election to the BISA Executive Committee.
We are the UK's foremost professional association promoting International Studies and the interests of those who research, teach and study the subject. Alongside our members we engage with interested professionals in think tanks, international organisations, the media and government, and have over 30 specialist working groups. We convene an annual conference, give out funds to support research and scholarship, award a number of prizes that recognise excellence in research and learning and teaching, and are home to two highly-regarded journals as well as a prestigious book series.
Over the last couple of years, we have made great strides in our approach to communications, outreach, public engagement, career development and learning and teaching. With a growing membership and over 10,000 twitter followers, we are committed to a programme of annual activities including face-to-face and virtual events, and a large annual conference to showcase the latest research from our working groups and Postgraduate Network (PGN). 
The available positions are:
Treasurer –  We are seeking an enthusiastic and dedicated trustee to take over the role of Treasurer. This trustee position is a three-year term (2022 to 2025). Working with the Director, the Treasurer has oversight of, and responsibility for, the financial management of the Association including the annual budget, quarterly management accounts and year end accounts.
There are three positions available for a regular trustee. Ordinary trustees may be asked to take responsibility for a particular portfolio of work. In this round of elections, we are particularly interested in applications from colleagues who have an interest in overseeing the annual BISA conference academic programme or inputting ideas for our programme of virtual events (including professional development events). Experience of leadership roles in academic departments or faculties is also very welcome.
For a full description of each role please download the documents at the bottom of this page.
It is essential that you read the relevant role description before nominating yourself or being nominated for a position on the Executive Committee. If you're elected you will become a legal trustee of BISA as a charity, so you must act in accordance with Charity Commission guidelines.
"BISA should be at the forefront of shaping higher education policy for the good…We also have a role to play in tackling limited student and staff diversity in higher education, and to enhancing dialogue and collaboration with scholars in the Global South. It's an honour to have the opportunity to shape the discipline and our profession in these crucial areas through my BISA role."

We strongly encourage applications from women and/or candidates from Black and minority ethnic backgrounds.
Whilst we're an association that represents the academic interest, our 'public benefit' obligation extends beyond the academy. We are interested in extending our membership and activities to involve those working in think tanks, journalism, NGOs, international organisations and government. We thus also encourage BISA members from outside the HEI sector to consider standing for election.
How to apply
For details of how to nominate, a full timeline for the election, and more information, visit our elections page.
Nominations were due to close on Monday 25 April at 5pm, however we have extended the deadline to Monday 20 June 2022 at 5pm as we haven't yet received enough nominations.
"Being a BISA trustee allows you to look beyond your own specialism to engage with, and influence, broader issues affecting international studies scholars in the UK and beyond. It is also a great opportunity to expand your academic and research network and be inspired by the diversity and excellence of research produced by the BISA community."