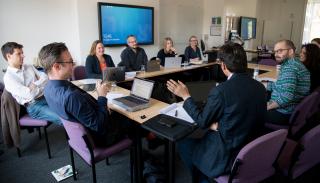 Call for nominations to serve on the BISA Executive Committee - DEADLINE EXTENDED
This article was published on
We're pleased to announce that we have six trustee positions up for election to the BISA Executive Committee.
We rely on the dedication, expertise and support of elected trustees to oversee BISA's mission to develop and promote International Studies and related subjects through publication and research, the maintenance of academic networks, and the free exchange of ideas.
As the UK's foremost professional association promoting International Studies, we represent the interests of those who research, teach and study the discipline. With over 30 specialist working groups and a postgraduate network, we convene more than 60 events a year including an annual conference, give funding to support research and scholarship, award a number of prizes that recognise excellence in research and learning and teaching, and are home to two highly-regarded academic journals as well as a prestigious book series.
Over the last few years, we have made great strides in our approach to communications, outreach, public engagement, career development and learning and teaching. With a growing membership and over 12,500 twitter followers, we are committed to serving our membership and the wider community.
Available positions
1. Vice Chair: The Vice-Chair deputises for and supports the Chair of the Association. The Vice-Chair is the chair in waiting when the current Chair steps down at the end of the term of office. This is a two-year term, with a further two years as Chair.
2. EDI Officer: The EDI Officer is responsible for leading on the development and implementation of our equality, diversity and inclusivity strategy. This is a three-year term.
3. There are four positions available as an ordinary trustee. Ordinary trustees may be asked to take responsibility for a particular portfolio of work. In this round of elections, we are particularly interested in applications from colleagues who have an interest in overseeing the annual BISA conference academic programme and inputting on ideas for the programme of virtual events (including professional development events). These positions are two-year terms.
"Becoming a trustee is a great way to learn about the big debates shaping the discipline and the sector, as well as about how professional associations work and the roles they play in supporting our discipline. These are live conversations, and they affect all of us."

It is essential that you read the relevant role description before nominating yourself or being nominated for a position on the Executive Committee. If you're elected you will become a legal trustee of BISA as a charity, so you must act in accordance with Charity Commission guidelines.
For a full description of each role please download the documents at the bottom of this page.
We strongly encourage applications from women, candidates from black and minority ethnic backgrounds, and those with senior leadership experience in academic departments or faculties. All nominees must be BISA members.
How to apply
For details of how to nominate, a full timeline for the election, and more information, visit our elections page.
Nominations close at 5pm (UK time) on Tuesday 23 May 2023 (extended from 16 May).
"If you care about who gets included and who gets marginalised within the discipline, being a trustee offers one way of shaping and impacting how the discipline of international studies is practiced at a national level."