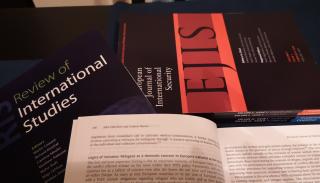 Invitation to tender for journal publishing services
This article was published on
We are accepting tenders from organisations interested in publishing our two highly regarded academic journals, the Review of International Studies (RIS) and the European Journal of International Security (EJIS).
We seek an organisation to provide comprehensive publishing services to our journals. This will include all aspects of the service currently provided by Cambridge University Press including provision of the online peer review system (ScholarOne) and peer review support, full production service (copyediting, typesetting, proofreading), online hosting, production and distribution of both print and online copies, management of subscriber lists, sales and marketing services, rights management and full financial management.
Our current agreement with Cambridge University Press expires in December 2022 with a one-year notice period (December 2021).
We are seeking responses to this tender by close of business on Tuesday 2  November 2021. We would expect the selected organisation to work closely with Cambridge University Press, both journal editorial boards and the Association during 2022 to ensure a timely and efficient handover of services on 1 January 2023.
To apply, please contact our office on office@bisa.ac.uk who will send you further information in the form of the tender brief and response document. An introductory call with BISA Director Juliet Dryden can be facilitated to support the submission of the tender.
All responses must be received by close of business on Tuesday 2 November 2021.