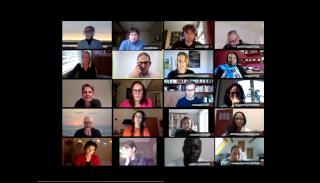 A look forward to #BISA2021
This article was published on
With over 100 panels/roundtables, keynotes from a host of incredible speakers, and some creative fringe events, BISA 2021 is shaping up as the place to (virtually) be. Here we look at some of the highlights.
Keynotes
This year we're presenting a keynote on each day of the conference. First, we have a conversation between journalist and Professor of Sociology Gary Younge (University of Manchester), and Dr Olivia Rutazibwa (University of Portsmouth), chaired by Professor Robbie Shilliam (Johns Hopkins).
On day two we have a 'Forget International Studies?' roundtable chaired by Dr Jenna Marshall, University of Kassel and Dr Heba Youssef, University of Brighton, with speakers:
Dr Sithembile Mbete, University of Pretoria
Dr Lata Narayanaswamy, University of Leeds
Dr Swati Parashar, University of Gothenburg
Professor Sabelo J Ndlovu-Gatsheni, University of Bayreuth
Our final keynote features Dr Agnes Callamard, the French human rights expert, Secretary General for Amnesty International, and former UN Special Rapporteur on extrajudicial, summary or arbitrary killings.
Panels and roundtables
There'll be over 100 panels and roundtables across the three days of the conference. Dozens of different areas of International Studies will be covered, with representation from across our working groups, as well as our two journals – Review of International Studies and European Journal of International Security. We have sponsored sessions from Chatham House, RUSI, Cambridge University Press and more.
On Tuesday 22 June we have a widening participation panel - Vicarious Identities in the Curriculum: Examining Muslim Women. The speakers are Alexandra Ignat, Joseph Haigh (University of Warwick), Lily Mae Barton, Mia Mattu, Saraah Khalifa, Shahnaz Akhter (University of Warwick) and Tonio Induli.
Virtual exhibition
Just because we can't have tables, chairs and stands at this year's conference, it doesn't mean you can't network with publishers and get great discounts on books! We currently have 12 publishers exhibiting, and you'll be able to find out all about them in our virtual exhibition space. Many publishers are also holding book launch events, prize draws and more.
Meet the editors
Our Postgraduate Network (PGN) will host two of their flagship 'Meet the editors' events. The first is an open session and will introduce both of our journals, as well as our book series with Cambridge University Press. The second is invite-only and will provide PGRs and ECRs with the invaluable opportunity to receive tailored, one-to-one feedback on draft articles from editors of leading journals from across the discipline. The call for papers is open now. You'll need to register for the conference in order to take part.
Prize giving
We'll be announcing the winners of all this year's BISA prizes during the conference. We've already released the shortlists for the Susan Strange Best Book Prize and the L.H.M. Ling Outstanding First Book Prize, and think you'll agree there are some amazing titles there. We can't wait to find out who wins! The winner of our prestigious Distinguished Contribution Prize will take part in an 'In conversation' session with our incoming Chair, Professor Ruth Blakeley.
Fringe events and networking
We couldn't host BISA 2021 without including some creative events, and ways to enjoy the social aspects of attending a conference.
On Wednesday evening (6-7.30pm) you can attend the Postgraduate Network's IR quiz, where you'll not only have your own knowledge tested, but you can pit yourself against friends and colleagues whilst enjoying your favourite beverage.
We also have both an art and sound exhibition from Newcastle's Dr Michael Mulvihill. Noise to Signal is an exhibition of art works that uses drawing, sculpture and moving image, in order to make visible the interconnections between everyday social and cultural experience, and the materiality of geopolitical power. Michael is also the first artist in residence at RAF Fylingdales. At BISA 2021, he'll present One Key Magic, a project with musician and producer Chris Tate, to interpret and materialise the scintillations and aurora of these electro-magnetic engagements, while folding together the geographic, cultural and historic trajectories of music production, space exploration and nuclear deterrence.
In addition to the virtual conference hall where you can meet publishers, we'll also have 'Coffee and conversation' sessions where you can take a break to chat with other delegates, either as part of an organised working group, or as a more sporadic bunch. BISA has always been renowned for being friendly and welcoming, so don't let not knowing anyone put you off!
Attendance certificates
All attendees at BISA 2021 will receive an attendance certificate following the conference. Perfect for your CPD hours.
Registration for the conference is open now. Members receive up to 50% discount on the non-member ticket price. We look forward to seeing you there.