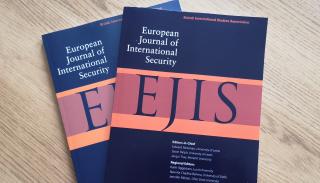 New editorial team for European Journal of International Security: call for expressions of interest
This article was published on
BISA is the leading UK professional association for International Studies scholars and postgraduate research students. We develop and promote International Studies through our publications, research, academic networks and funding opportunities. We're known for our progressive, vibrant community, our annual conference, our lively and strong research networks, and our influential and high-quality publications. We publish two field-leading journals, in partnership with Cambridge University Press: Review of International Studies; and European Journal of International Security.
We are seeking to appoint a new editorial team for the European Journal of International Security. This is an exciting opportunity to edit a security studies journal with a growing reputation for its cutting-edge research on global security challenges.
About the European Journal of International Security
The European Journal of International Security (EJIS) publishes theoretical, methodological and empirical papers at the cutting-edge of research into international and global security challenges. Welcoming high-quality research from around the world, EJIS covers all areas of international security, including: conflict and peacebuilding; strategy and warfare; environmental, health and food security; energy, ecological and climate security; human, gender and everyday security; technology and security; and security governance. EJIS currently publishes four issues per year.
The current editorial team, led by Ted Newman, Jason Ralph (University of Leeds) and Jacqui True (Monash University) will complete their term at the end of December 2023.
Expressions of Interest are now invited for the next editorial team contract. The next editorial team will be appointed for an initial term of four years. This can be extended for up to a further four years by mutual agreement, subject to review.
Expressions of Interest – Guidance
Expressions of Interest are limited to three pages, and should provide:
1. Details of the proposed editorial team
One of the lead editors should hold an open-ended academic position in a relevant university department based in the UK. The Expression of Interest should provide evidence that a bid for the editorship has the full support of the host department including any workload relief allocated to editors. Editorial teams should be comprised of academics from more than one University, and ideally, from more than one country.  The last two editorial teams have been global, and have sought to expand the journal's global reputation, and we are keen for this to continue. All members of the team should be members of BISA. Teams can include members at all career stages, but evidence should be provided that some members of the team have prior experience of journal editing. Where more junior colleagues are proposed members of the team, Expressions of Interest should outline how they will be supported in their editorial team by more experienced members. Clear thought should be given to the diversity of the team, in line with BISA's EDI commitments. CVs of all proposed team members should accompany the Expression of Interest. We take very seriously the promotion of published authors' work, so Expressions of Interest should provide clear plans for digital and social media promotion plans.
2. A clear strategy to:
Continue attracting and publishing scholarship of the highest quality from across the sub-field of international security;
Play an active role in realising BISA's commitments to Equality, Diversity and Inclusion, building on the work of previous editorial teams to increase the volume of work published where women are authors, and to publish work from diverse voices across the discipline and the globe;
Further strengthen the journal's international reputation in terms of author and readership base;
Raise the profile of the journal through social media and other marketing strategies;
Promote published authors' work through digital media;
Maximise engagement of BISA members with the journal through the annual conference, working groups, and virtual events;
Strategy for convening high quality special issues (maximum 1 per volume/calendar year);
Manage the day-to-day business of the journal, including the management of the review process, the division of labour across the team, and the promotion of the journal.
3. Host department support:
CUP provides appropriate financial and other support which reflects the international standing of the journal. The financial support is currently in the form of a stipend of, which covers administrative support for submission management, social media activity, and funds to support travel by editors to promote the journal. 
Duties of editors
As well as having strategic oversight of the journal, and being responsible for the day-to-day management, the editorial team will be contracted to periodically attend the BISA publications subcommittee, to attend the annual BISA conference, and to organise at least one panel session each year, as well as engage with 'Meet the Editor' events aimed at Early-Career Researchers. Regular participation in global conferences such as ISA and EISA to promote the journal is also expected, while being considerate of BISA's commitment to environmental sustainability. Editors are also required to submit annual reports to the BISA Board of Trustees and to participate in any training required by CUP and BISA. They are also expected to maintain regular communications with BISA and CUP. The arrangement is formalised in an 'Editor Agreement' between BISA and the editorial team, and this includes undertaking to abide by and uphold BISA's various policies and codes of conduct.
Timeline and contacts
26 September 2022: Deadline for Expressions of Interest
14 October 2022: BISA feedback on Expressions of Interest
30 November 2022: Deadline for Full Proposals
January 2023: Interviews with prospective Editorial Teams
Expressions of Interest should be sent to BISA's administrator, Freya Jones (office@bisa.ac.uk), and should include: three-page EoI; CVs of proposed editorial team members. The closing date for Expressions of Interest is: 26 September 2022.
Feedback will be provided to teams by 14 October 2022, including a determination on whether teams are invited to submit a full proposal. The deadline for full proposals is 30 November 2022. BISA anticipates conducting interviews with shortlisted teams in January 2023.
The current editor is happy to be contacted by email: j.g.ralph@leeds.ac.uk.  The BISA Chair, Professor Ruth Blakeley, will be chairing the selection process and also welcomes any questions by email: r.blakeley@sheffield.ac.uk