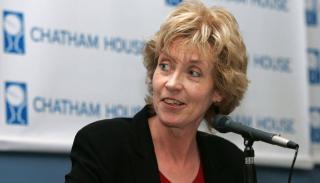 Rosemary Hollis commemoration interviews
This article was published on
In 2021 the late Rosemary (Rosy) Hollis was jointly awarded our Distinguished Contribution prize in order to recognise the enormous contribution she made to IR. We are delighted to see that the International Politics Department at City, University of London have published a series of interviews uncovering Rosy's work and legacy.
You can watch the interviews on the City website.
Image used with kind permission of Chatham House.