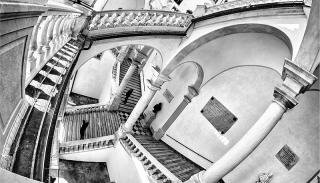 Becoming a humanitarian state: A performative analysis of 'status-seeking' as statecraft in world politics
This article was written by
Ali Bilgic
This article was published on
In this short summary video author Ali Bilgic discusses the key arguments from his new Review of International Studies article - 'Becoming a humanitarian state: A performative analysis of 'status-seeking' as statecraft in world politics'.
Want to know more? You can read the full article at  DOI: https://doi.org/10.1017/S0260210523000578
This particular article is open access, however BISA members receive access to all articles in RIS (and our other journal European Journal of International Security) as a benefit of membership. To gain access, log in to your BISA account and scroll down to the 'Membership benefits' section. If you're not yet a member join today.
Abstract
Status-seeking is ubiquitous in world politics, and the literature is currently dominated by state-centrism and rationalism, which is almost exclusively focus on state elites. This results in a thin and limited understanding of what 'status-seeking' is, where it works, and how it is effected. This article challenges the existing approaches by introducing a performativity framework and offers an overhaul of how 'status' can be studied. It suggests replacing 'status-seeking' with 'status performances' that are conceptualised as part of 'statecraft' process. Drawing on post-structuralist and queer approaches as well as aesthetics in International Relations (IR), it is argued that status performances participate in the production of the state itself as a subject in world politics, so all states are 'status-seekers'. This subject-production process occurs in multiple political sites, including the academic IR discourse in a country and visual presentations in the media. It is concluded that there is no 'status' beyond the subject, and status can never be achieved because it always needs repetitive performances. The argument is illustrated by an analysis of the production of 'Turkey' as a humanitarian state and demonstrates how this is effected in state-elite pronouncements, IR scholarship in Turkey, and visual representations.