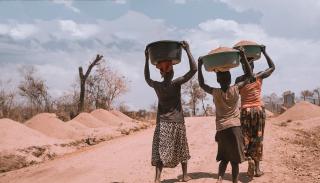 Refugees' cross-border strategies and international organisations
This article was written by
Alexander Betts, Naohiko Omata, and Olivier Sterck
This article was published on
In this article, Alexander Betts, Naohiko Omata, and Olivier Sterck explore how and why international institutions struggle with transnationalism. Their full article 'Transnational blindness: International institutions and refugees' cross-border activities' was recently published in BISA journal Review of International Studies. You can also find a complementary video from the Refugee Studies Centre, Oxford - Dollo Ado: Building Refugee Economies - at the end of this summary piece.
Over the past decade, the Dollo Ado refugee camps have emerged in the Somali region of Ethiopia. Located close to the Ethiopian-Somali border, they accommodate around 160,000 Somali refugees, and have benefited from a range of innovative livelihoods programmes, supported by the UN refugee agency (UNHCR) and its partners, including over $100 million of investment from the IKEA Foundation. These programmes have led to growth in sectors such as agriculture, livestock and retail commerce. But they have notably side-stepped one of the most important sources of income-generation for refugees themselves: the cross-border economy.
Refugee and Forced Migration Studies has already identified examples of refugees' international cross-border movement in their day-to-day lives. For example, Alessandro Monsutti's work on the Afghanistan-Pakistan border shows the importance of back-and-forth movements. Anthropologists such as James Ferguson have shown ethnographically how international institutions, such the World Bank, may misunderstand and misinterpret the behaviour of their subject populations, including in the context of transnationalism. But rarely have these ideas been brought into conversation with debates in International Relations to try to explain why it is that international institutions are sometimes blind to transnational activities, even when these are so central to the lives and wellbeing of target populations. 
Our research reveal that refugees in the Dollo Ado camps travel regularly across the border bridge over the Daws River and into Somalia, despite formal restrictions on their movement. Estimates by border officials are that about 20% of those crossing (around 200 people per day) are likely to be refugees. Many refugees delegate food ration collection to other family members for the maximum permitted period of two monthly collections, before reappearing. And while surveys are likely to underestimate self-reported illicit activity, 12% of refugees in the nearest camp to the border claimed to have returned to Somalia in the previous year.
Some are simply visiting family members. Many move for economic reasons: to tend farms and livestock back home, to participate in cross-border trade, or to access cash assistance in the internal displacement camp just across the border. Even those not returning themselves would rely upon the cross-border trade of other refugees. 28% of refugees with an income are self-employed, mainly in retail commerce. In retail shops, most stock comes from Somalia. Without cross-border exchange and mobility, there would be no economic.
Yet, such transnational movement has been institutionally invisible to international organisations working in Dollo Ado.  Cross-border mobility is not openly discussed; much less integrated into livelihoods programming. UNHCR staff, particularly 'national staff' native to Dollo Ado, are quietly aware of the importance of refugees' cross-border strategies. However, individual understandings have not been reflected at institutional or policy levels within UNHCR.
The question is: given the centrality of cross-border strategies, why are they not a focus of livelihoods programming? Part of the answer can be found at the level of power-knowledge, and its implications for bureaucracy. The UN system's approach to programming – and what is legible to it – is shaped through its state-centric gaze. UNHCR's livelihoods programmes in Dollo Ado are approved in Addis Ababa; responses across the border in Doolow are made in Mogadishu.
Part of the explanation, however, is material, and reflects UNHCR's relationship with a government concerned to discourage cross-border movement.  In order to operate within Ethiopia, UNHCR relies upon the government's permission. For the government, border crossing is sensitive due to the security implications of Al Shabaab's operations on the other side of the border. And UNHCR staff were deferential in seeking to exclude cross-border mobility issues from livelihoods programming for fear of alienating the government. In this sense, aspects of the decision making were wilful, systematic, and strategic, in the sense of shaping how could be 'seen' based on the political preferences of the host state.
These findings have policy implications for international institutions. They cannot be detached from the local realities, including the historical and cultural context of the regions in which they operate. Livelihoods programmes need to move beyond state-centrism and have greater regard for transnationalism, kinship ties, and cross-border socio-economic networks, whether within the Dollo Ado area or elsewhere.
On an academic level, some of these observations are not novel within Development Studies or Anthropology. James Scott demonstrates how states systematically misperceive their subject populations, partly to make them legible for governance. James Ferguson's Anti-Politics Machine highlights the World Bank's systematic disengagement from local understandings of transnational economic life. However the work of these authors has rarely been integrated into International Relations' study of international institutions. While Scott and Ferguson's work is heavily Foucauldian, our research suggests that some of their key themes can be explored using mixed methods and positivist epistemologies. They offer the basis for deeper exploration of a theme long neglected by International Relations: how international institutions interact with, perceive, and misperceive their subject populations.
Produced by the Refugee Studies Centre, Oxford.
Want to know more? You can read the full Review of International Studies article at DOI: https://doi.org/10.1017/S0260210521000164
BISA members receive access to RIS (and to our other journal European Journal of International Security) as a benefit of membership. To gain access, log in to your BISA account and scroll down to the 'Membership benefits' section. If you're not yet a member join today.