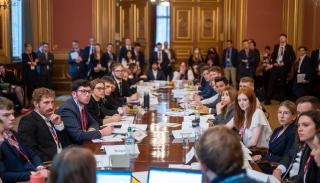 Taking part in Model NATO - A case study
This article was written by
Becci Dugdale (University of Westminster)
This article was published on
On Friday 11 March 2022 almost 100 students from 15 UK universities took part in the annual BISA Model NATO. The event was run in partnership with the Foreign Commonwealth and Development Office (FCDO). Here we talk to student delegate Becci Dugdale (University of Westminster) about her experience, the skills involved, and how she'll use her experience going forward.
Which course do you study and what year are you in?
BA International Relations – Level 4.
Why did you want to take part in Model NATO?
One of the career paths I am considering after gaining my degree is to enter into political mediation. The opportunity to take part in a Model NATO conference offered the chance to gain some practical, tangible experience in this field. The opportunity to collaborate with the FCDO and BISA also opened the opportunity of gaining some valuable contacts at institutions I would like to explore working with in the future. My delegation was drawn as representatives of Slovenia, a country which before this event I had little to no specific knowledge about, and in order to effectively represent the county's interests I would need to take part in extensive research, allowing me to build upon key skills to complement both my current studies and future job applications. Lastly, I am interested in perhaps organising a similar event within my own University, so involvement in the Model NATO 2022 would give me first-hand understanding of how to successfully run a Model.
Did you know much about NATO beforehand and how did your experience and preparation change this?
As part of my current studies I am learning about Global Governance and Development, so NATO has certainly come up within the scope of the module. Before this, I had only a limited understanding of NATO, I knew of its existence and general purpose, and of some involvement in international affairs.
During the preparation for the conference, I learned in much greater detail about the operational procedures and sub-organisations of NATO such as the EADRCC. I found detailed resources on previous contributions of states to NATO missions and aid across the world and the combined military might of the NATO nations.
What did you do to prepare to act as your designated country?
As a delegate for Slovenia, I spent a considerable time reviewing the foreign policy documents found on their government website to understand the specific national interests of the country. I also looked at articles published by their government, other governments within NATO and news stories to better understand the foreign relations between other NATO nations and Slovenia.
Specifically to prepare for the earthquake crisis scenario, I researched the different pre-existing international and national organisations available in similar real-life situations and looked at the contributions of NATO to past disaster relief efforts such as earthquakes in Turkey and floods in Albania in the past decade.
I researched the transportation networks and nuclear sites across the Euro-Atlantic region in order to understand the best ways to move resources across countries and understand significant threats to human life in times of natural disaster.
Alongside my other delegates, I took part in several preparation meetings to ensure we were on the same page when representing the country and realistically understood the capacity to provide aid to affected areas if required.
What were the best and most challenging things about the event?
Meeting other students from across the UK was invaluable, and I made some great contacts who I hope to stay in touch with in the future. Taking part in a conference with such fierce competition and a fantastic standard of university representatives was a pleasure to be a part of. On the North Atlantic Council, the contributions of students were fantastic, and it really allowed me to hone my debating skills.
The most challenging aspect of the experience was not fully understanding what I was getting myself into, since I have never competed in a model of this kind before. Understanding the formal proceedings and language of NATO was something I had to pick up mostly at the event and so it took some time to get fully involved and contribute, but the Chairs and Co-Chairs moderated the committees very well and it was easy to pick up once we got started.
What skills do you think you developed, or had the chance to use, as a result of taking part?
I really appreciated the ability to participate in formal and intense debate, to think on your feet and adapt to a rapidly changing environment. These are very important skills which definitely developed during the course of the event.
My research experience was relatively limited before the preparation for the conference since I am only in the first year of my degree, and so the run up to the event allowed me to expand these skills and grow my understanding of a topic from the absolute beginning. When I started my research, it was difficult to know where to pick up from, but by the time we competed at the conference I was able to go in feeling confident in my understanding and represent my delegation appropriately.
Is there anything you would do differently if you took part in a similar event in the future?
At the beginning of the first committee, I was hesitant to make any concrete contributions and submit my own draft texts. Now that I have participated in a model, I would definitely try to hit the ground running if I were to do it again. I would also prepare draft texts before the day now that I better understand the format of the event.