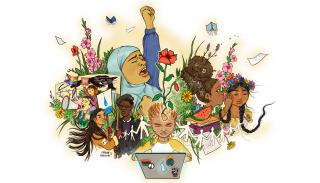 CPD Statement in Solidarity with Palestine
This article was written by
CPD Co-Convenors
This article was published on
Dear CPD colleagues and friends,
This week we have been overwhelmed by the unfolding events in Palestine and Israel,  not able to offer our care and insights in the most articulate of ways, despite knowing we hold a level of responsibility as scholars of International Studies. We hope you forgive us, then, as what we write is not particularly poignant or clever but we wanted to challenge the silence and erasure we know is travelling and reverberating across the official corridors of UK universities, associations and institutions.
First and foremost: we write to you all in solidarity with Palestine and our Palestinian friends and colleagues. As scholars who study colonialism and decolonisation, we see this moment as part of and endemic to the structures that enable, legitimise and produce oppression: racial capitalism, empire and the carceral projects they maintain and create. These are structures that see Palestinians as less than human, that conceptualise the 17-year siege of Gaza as normal, that enable the ongoing and everyday containment, displacement and death of the Palestinian people. We are also grieving with friends and colleagues in Israel and beyond, who lost loved ones, but it is important to understand that this did not start on 7th October 2023, nor will it end there.
Our solidarity is not exclusive, it operates against the structures that enable life to be seen as a zero-sum game, that see liberation and the right to a life of dignity as exclusively belonging to one people, that see collective punishment as legitimate, or part of a state's repertoire for 'self defence'. Our solidarity operates against the idea that people who have suffered 75 years of displacement and dispossession now need to condemn acts of violence, in order to merit humanitarian aid or support. It operates against the disciplining of Palestinian voices and decolonial allies, which we know is happening  across universities, public fora and organising spaces, as the British government has already declared. It operates against the extensive military might that is now pouring into Israel and treating millions of Palestinians as collateral damage.
And so we write this as part of collective calls for the international community, our own government officials, and the public and scholarly communities we are part of, to uphold international law, to cease their dehumanising discourse of Palestinians and to pressure the Israeli government towards a ceasefire. 
We also write this knowing this moment will be marshalled towards other violent ends. As the British government gears up to join France and Germany in restricting pro-Palestine protests, banning Palestinian symbols and erasing Palestinian voices from our public spheres, including at our own institutions, we see this as part of a wider trend to silence/police anti-racist, anti-colonialist protest in the UK. As we witness what is happening in Palestine, we see yet another node in the naked violence of our carceral moment. 
Our hope is to build the space to explore the meaning of this moment as part of a wider terrain and contribute sharper tools for collective organising in the future. In the meantime, we stand against the colonial genocide happening in Gaza and in unequivocal solidarity with a liberated Palestine.
Your CPD-conveners