Article
Publishing with Review of International Studies
This article was published on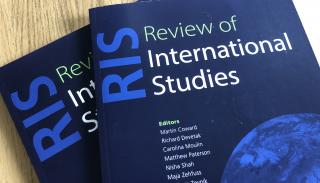 Have you considered submitting an article to BISA journal Review of International Studies (RIS)? In this interview with Lead editor, Martin Coward, conducted by BISA Director Juliet Dryden, we discuss the scope of the journal, the aspirations of the current editors, and hints and tips for submitters.
RIS publishes the very best original research in International Relations broadly construed. We publish research that is theoretically informed, empirically rich, and methodologically rigorous, but which also pushes the boundaries of the discipline through theoretical, conceptual and methodological innovation. RIS is especially keen to welcome interdisciplinary research that draws on cognate disciplines to bring new insights to International Relations research.
Martin explained to us that the RIS team are keen to see the diversity of authors improve, having already had success with gender balance. They are also keen to cover emerging research areas and issues.
Watch the interview below to find out more, including hints and tips on submitting to RIS, what they are looking for and desk rejection.
Martin also talked about the upcoming RIS forum taking place on Thursday 5 November - 'Disruption by design: planetary programming in the aftermath of geopolitics'. Registration is open now, all welcome.