News
IR Career Starters - December 2022
This article was published on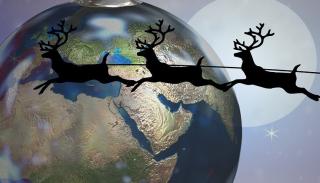 We're delighted that Alexander Borum, an Advisor on Political and Security Affairs for the Delegation of the European Union in Somalia, has kindly agreed for us to reproduce his periodical list of internships, traineeships, fellowships and entry-level positions in IR on our website. 
With Christmas just around the corner (for those who celebrate it), it's a pleasure to share a small pre-Christmas present; 308 fresh new opportunities for anyone seeking to kick off their career in International Affairs. 
The record-breaking influx of interesting internships, traineeships, fellowships and entry-level positions is largely aligned with the significant intakes at the beginning of next year, along with the spring internship programmes kicking off with many key institutions. 
With the holiday season, I am also kicking off a brand new series of highly requested guide articles on dealing with CVs, Cover Letters, Interviews & Tests and LinkedIn so if you are following me, expect to see them pop up on your feed every Thursday until Christmas as a sort of advent calendar. 
Beyond the newsletter, I also regularly share unique opportunities that don't fit here, so tune in if you are interested in even more chances to stand out or enter the field!
All the best with your job hunt!
Alex
??????, Communication and Events, The Hague
??????, Emerging Threats, The Hague
??????, Strategy Analyst, Paris
?????, Analyst - Governance & Security, Dakar
??????, Programs, New York
??????, Communication, New York
??????, Human Resource and Protocol, Centurion
??????, Operations Coordination, Geneva
??????, Oslo Forum team, Geneva
??????, Projects, Singapore
?????, Project Associate, Beijing
?????, Project Associate – China-Europe relations, Europe
??????, 2023 POLITICO Journalism Institute, Arlington
??????, 2023 POLITICO Journalism Institute, Sacramento
??????, 2023 POLITICO Journalism Institute, New York
?????, Program Operations Associate, Open Society – Asia Pacific (OSAP)
?????, Investment Associate - Africa, Soros Economic Development Fund (SEDF), Nairobi
??????, Transitional Justice, Washington DC
??????, Research Fellowship, Washington DC/Remote
??????, Shared Operations, Amsterdam
??????, Design and Video, Amsterdam
?????, Temporary Project Assistant: LAC (Multiple Positions), Washington DC
?????, Temporary Project Assistant: Elections and Political Processes, Washington DC
?????, Program Associate: Eurasia, Washington DC
?????, Program Associate: Central and Eastern Europe, Washington DC
?????, Temporary Project Assistant: Central & West Africa, Washington DC
?????, Temporary Project Assistant: Asia-Pacific (Multiple), Washington DC
 ??????, Junior Fellows Internship Spring 2023
??????, SEI Africa: Research
??????, EU policy engagement, geopolitics and Agenda 2030, Stockholm
??????, Migration, Climate Change, Disasters and Development, Stockholm
??????, PhD: Monitoring the contribution of trade-linked climate policy to global deforestation and restoration targets, Stockholm
??????, Humanitarian Directorate, Bonn
??????, Tajikistan, Dushanbe
??????, MEAL Measuring Success, Bonn
?????, Programme Support Officer, Thailand
?????, Advocacy Officer, Thai-Burma Border
?????, Community Fundraising and Events Assistant, Dublin
?????, Programme Development Officer, London
?????, Programme and Policy Assistant, London
?????, Program Assistant, Southeast Asia, Washington DC
?????, Senior Program Assistant, Center for Russia and Europe, Washington DC
?????, Administrative Assistant, Public Affairs Communications, Washington DC
?????, Program Assistant, Strategic Partnerships, Washington DC
?????, Research Assistant, North Africa, Washington DC
?????, Research Assistant, Security Sector Governance and Reform, Washington DC
?????, Research Assistant, China, Washington DC
?????, Research Assistant, Atrocity Prevention, Washington DC
?????, Project Assistant, Diplomatic Academy Project, Tunesia
??????, Communications Intern - Winter/Spring 2023, Washington DC
??????, Lifeline Internship - Spring 2023, Washington DC
?????, Chinese-Language Communications and Research Assistant, Washington DC
?????, Program Assistant, International Programs Department, Washington DC
?????, Program Associate, Dignity for All, Washington DC
?????, Program Associate, Europe and Eurasia, Washington DC
?????, Program Associate, Latin America and Caribbean, Washington DC
?????, Research Associate, Washington DC
?????, Senior Program Associate, Asia Program, Washington DC
?????, Senior Program Associate/Program Officer, Asia Programs, Washington DC
?????, Program Assistant, Khartoum
?????, Program Associate, Bogota
?????, Senior Program Associate, Bogota 
??????, Women Peace and Security, Washington DC
??????, Global Program Development, Washington DC
??????, CEA Grants Management, Washington DC
??????, Program Development - Africa Hub, Nairobi
??????, Common Ground USA, Washington DC
??????, Jordan Country, Amman
??????, Jerusalem Country Office, Jerusalem
??????, Youth Protection & Inclusion, Washington DC
??????, Herbert Scoville Jr. Peace Fellowship, Washington DC
?????, Associate, Communications, Washington DC
??????, External Affairs, Rotterdam
?????, Junior Program Officer, Food Security & Rural Wellbeing, Rotterdam
?????, Senior Associate, SUN Business Network, Nairobi
?????, Senior Associate, Stakeholder Engagement, Nairobi, Delhi, Utrecht and London
?????, Policy/Advocacy, Policy Action for Healthy diets and resilience, Addis Ababa
??????, Resource Mobilisation, Bangkok/Remote
?????, Training Support Associate, Kampala
??????, General Internship (start date Jan/Feb 2023), The Hague
??????, Prospects for political reform and renewal, The Hague
??????, Business and Peace, Horn of Africa, The Hague
??????, Hybrid governance, Sahel and West Africa, The Hague
??????, Planetary Security Initiative, The Hague
?????, Research Assistant & Cluster Coordinator, Peace and Development Cluster, Solna
??????, Communication, Chișinău
?????, Protection Programme Assistant, Chișinău
?????, Policy and Advocacy Assistant, Washington DC
?????, Research Assistant Migration and Displacement, Nairobi, Tunis or Remote
?????, Research Assistant for Social Equity, Nairobi, Tunis or Remote
?????, Research Assistant for Children and Youth, Nairobi, Tunis or Remote
?????, Senior Research Assistant for Data Standards and Analytics, Nairobi, Tunis or Remote
??????, General, Geneva
??????, Audit, Geneva
??????, Travel, Geneva
??????, Multi-Sector Needs Assessments, Geneva
??????, Research, Geneva
?????, Junior Officer – Administration, Geneva
?????, Junior Assessment Officer, -
?????, Assessment Officer, Moldova
?????, Data Officer, Bucharest
?????, Data Officer, Ukraine
?????, Data Officer, Warsaw
?????, Data Officer - Sudden Onset and Surge Team, Geneva
?????, Assessment Officer - Humanitarian Situation Monitoring Unit, Ukraine
?????, Assessment Officer
?????, Senior Assistant, Global Health, Washington DC
??????, Country Logistics Volunteer, Chisinau
??????, Transparency and Compliance Volunteer, Kinshasa
??????, Project Development Volunteer, Amman
??????, Program Volunteer, Bishkek, Dushanbe or Tashkent
?????, Country Finance Officer, Erbil
?????, Country Finance Officer, Pemba
?????, Project Development Officer
?????, Country Logistics Officer, Kyiv
?????, Country Monitoring and Evaluation Officer (MEAL), Bamako
?????, Project Development Officer, Chisinau
?????, Project Development Officer, Erbil
?????, Transparency & Compliance Officer, Kinshasa
?????, Country Finance Officer, Ouagadougou
?????, Project Development Officer, Niamey
?????, Country Security Officer, Hargeisa
??????, Africa Regional Program, Washington DC
??????, Research & Conferences, Washington DC
??????, World Movement For Democracy, Washington DC
??????, Government Relations, Washington DC
??????, Communications And Public Engagement, Washington DC
??????, Reagan-Fascell Democracy Fellows Program, Washington DC
?????, Assistant Program Officer Or Program Officer, Europe /Se Europe, Washington DC
?????, Assistant Program Officer (South Caucasus), Washington DC
?????, Assistant Program Officer/Program Officer For, South Caucasus, Washington DC
?????, Assistant Program Officer/Program Officer, Europe, Washington DC
?????, Assistant Program Officer/Program Officer For (Lac), Washington DC
?????, Communications/Outreach, World Movement For Democracy, Washington DC
??????, Working Student/Student assistant, Berlin
?????, Graduates/professionals, Berlin
??????, Programmes, London
??????, Turkish Speaking Programmes, London
??????, Legal Research/Operations, London
??????, Funding and Development, London
??????, Digital Transformation Centers project, Berlin/Bonn
??????, Project Management and Comms for the #SmartDevelopmentFund, Berlin/Bonn
??????, GCF-Oversight Unit, Berlin/Eschborn
??????, Renewable Energy Project Development, Berlin/Bonn
??????, InsuResilience - Climate and Disaster Risk Finance and Insurance, Bonn
??????, Renewable Energy Project Development, Berlin/Bonn
??????, Development Operations (Research and Data)
?????, Junior Policy Analyst – Water economics, Paris
?????, Junior Advisor, Office of the Secretary General, Paris
?????, Junior Econ/Stats/Policy – Productivity, Innovation and Entrepreneurship, Paris
??????, Development & Outreach (NY Committee), New York
??????, Multimedia
??????, Safety and Security Team
??????, Public Engagement & Campaigns Division, New York
??????, LGBT Rights Program (LAC), Berlin
?????, Youth Advocacy Assistant, Los Angeles
??????, Legal, Geneva
??????, Fundraising, Geneva
?????, Project Manager Junior, Prague
??????, Policy Fellow, Paris
??????, Policy Fellow, Rome
?????, Programme Assistant, Berlin
??????, Asia Studies, International Relations Theory, Spring 2023, New York
??????, Asia Studies, Spring 2023, New York
??????, CFR Digital, Audio Podcast, Spring 2023, New York
??????, CFR Digital, Podcast, Spring 2023, New York
??????, Corporate Programming, Spring 2023, New York
??????, Communications, Foreign Affairs Marketing, Spring 2023, New York
??????, Digital and Cyberspace Policy, Spring 2023, New York
??????, Digital Services, Product, Spring 2023, New York
??????, Education, Marketing, Spring 2023, New York
??????, Education, Model Diplomacy, Spring 2023, New York
??????, Education, Multimedia Production, Spring 2023, New York
??????, Education, World 101, Spring 2023, New York
??????, Foreign Affairs, Advertising, Spring 2023, New York
??????, Foreign Affairs, Audience Development, Spring 2023, New York
??????, Foreign Affairs, Editorial, Spring 2023, New York
??????, Foreign Affairs, Marketing Design, Spring 2023, New York
??????, Foreign Affairs, Marketing, Spring 2023, New York
??????, Foreign Affairs, Product, Spring 2023, New York
??????, Global Business, Spring 2023, New York
??????, Global Communications and Media Relations, Spring 2023, New York
??????, International Economics, Economic History, Spring 2023, New York
??????, International Economics, History, Spring 2023, New York
??????, International Political Economy, Spring 2023, New York
??????, Latin America Studies, Spring 2023, New York
??????, Middle East History and Geopolitics, Spring 2023, New York
??????, National Program and Outreach, Spring 2023, New York
??????, New York Meetings, Spring 2023, New York
??????, Publications, Spring 2023, New York
??????, Russia Studies, Spring 2023, New York
??????, U.S. Foreign Policy, Spring 2023, New York
??????, Africa Studies, Spring 2023, Washington DC
??????, Center for Preventive Action, Spring 2023, Washington DC
??????, CFR Digital, Editorial, Spring 2023, Washington DC
??????, CFR Digital, Video, Spring 2023, Washington DC
??????, Congress and U.S. Foreign Policy, Spring 2023, Washington DC
??????, Global Communications and Media Relations, Spring 2023, Washington DC
??????, Global Health Studies, Spring 2023, Washington DC
??????, Independent Task Force, Spring 2023, Washington DC
??????, India, Pakistan, and South Asia Studies, Spring 2023, Washington DC
??????, Japan Studies, Spring 2023, Washington DC
??????, Korea Studies, Spring 2023, Washington DC
??????, Middle East Studies, Spring 2023, Washington DC
??????, Renewing America, Spring 2023, Washington DC
??????, Trade Policy, Spring 2023, Washington DC
??????, U.S. Foreign Policy, Spring 2023, Washington DC
??????, Washington Meetings, Spring 2023, Washington DC
?????, Program Assistant, Membership, New York
?????, Program Assistant, New York Meetings, New York
?????, Communications Associate, Global Comms and Media Relations, New York
?????, Program Associate, Studies Administration, New York, Washington DC
?????, Investment Operations Associate, Washington DC
?????, Research Associate, Women and Foreign Policy, Washington DC
??????, Urban-Brookings Tax Policy Center, Washington DC
??????, The Hamilton Project, Washington DC
?????, Research and Project Assistant, Washington DC
?????, Research Assistant, Washington DC
?????, Project and Research Assistant, Washington DC
?????, Investment Associate, Washington DC
???????, RAND Summer Associate Program - POLICY Research, Santa Monica
???????, RAND Summer Associate Program - ECONOMICS, Santa Monica
???????, RAND Summer Associate Program - SOC & DEMOGRAPHY, Santa Monica
???????, RAND Summer Associates Program - STATISTICS, Santa Monica
???????, RAND Summer Associate Program - POLSCI & HISTORY, Santa Monica
?????, Bachelor's Level Research Assistant with Security Clearance, Santa Monica
?????, Bachelor's Level Research Assistant - Qualitative, Santa Monica
?????, Bachelor's Level Research Assistant - Quantitative, Santa Monica
?????, Entry/Mid-Career Technical Research Analyst, Santa Monica
?????, Entry/Mid-level Modeling & Simulation Analyst, Santa Monica
?????, Program Assistant - China Environment Forum, Washington DC
?????, Program Assistant - Kennan Institute, Washington DC
??????, Research - Carnegie Middle East Center, Beirut
??????, Communications - Carnegie Middle East Center, Beirut
??????, Stanton Nuclear Security Fellowship, Washington DC
?????, Research Assistant and Editorial Coordinator, Carnegie China, Singapore 
??????, Americas Program (Spring 2023), Washington DC
??????, Missile Defense Project (Spring 2023), Washington DC
??????, Global Food Security Program (Spring 2023), Washington DC
??????, Defense-Industrial Initiatives Group (Winter/Spring 2023), Washington DC
??????, Australia Chair (Spring 2023), Washington DC
??????, Aerospace Security Project (Spring 2023), Washington DC
??????, Strategic Planning (Spring 2023), Washington DC
??????, Outreach - Project on Nuclear Issues (Spring 2023), Washington DC
??????, Korea Chair (Spring 2023), Washington DC
??????, Trustee Chair in Chinese Business and Economics (Spring 2023), Washington DC
??????, Renewing American Innovation Project (Spring 2023), Washington DC
??????, Project on Nuclear Issues (Spring 2023), Washington DC
??????, Freeman Chair in China Studies (Spring 2023), Washington DC
??????, China Power Project (Winter 2022 and Spring 2023), Washington DC
??????, Human Rights Initiative (Spring 2023), Washington DC
??????, Abshire-Inamori Leadership Academy (Spring 2023), Washington DC
??????, Japan Chair (Spring 2023), Washington DC
??????, External Relations (Spring 2023), Washington DC
??????, Scholl Chair in International Business (Spring 2023), Washington DC
??????, Economics Program (Spring 2023), Washington DC
??????, Global Health Policy Center (Spring 2023), Washington DC
??????, Strategic Planning (Spring 2023), Washington DC
??????, Energy Security and Climate Change Program (Spring 2023), Washington DC
?????, Research Associate- Energy Security and Climate Change Program, Washington DC
?????, Program Coordinator & Research Assistant - Economics Program, Washington DC
?????, Research Assistant- Asia Maritime Transparency Initiative, Washington DC
?????, Research Associate (Economic and Security Studies) , Washington DC
?????, Evaluation Associate (Qualitative Sciences and Methods), Incheon
???????, Traineeship in IHL and Islamic Law, Geneva
???????, Traineeship in the Protection Data Unit, Geneva
???????, Traineeship in the Data Protection Office, Geneva
???????, Traineeship in the Accountability to Affected People (AAP) Unit, Geneva
???????, Traineeship in the Enterprise Project, Geneva
?????, Development Associate, Fundraising, Washington DC
??????, Country programme (C19 Vaccine Delivery, Coordination and Integration), Geneva
?????, Associate Stakeholder Involvement Officer(P2), Vienna
??????, Foresight, Strategy and Coordination Department, Paris
??????, Programme Management Support Group, Paris
??????, Strategy and Coordination Group, Noordwijk
??????, European and External Relations Department, Brussels
??????, Programme Management Support Group, Noordwijk
??????, Strategy and Transformation Office, Darmstadt
??????, Future Missions Department, Noordwijk
??????, Strategy and Programme Department, Toulouse
??????, Programme Planning and Coordination Office, Paris
??????, Space Economy - Industrial Policy and Auditing Department, Paris
?????, Associate, Green Finance Systems, Climate Strategy and Delivery, London
?????, Associate, M365 Cyber Security Mgr, London
??????, Mitigation targets, policies and actions
??????, Development, Freetown
??????, Legal, Freetown
?????, Development Associate, Freetown
?????, Climate Change Senior Associate, Suva
?????, National CFAN Associate (Tuvalu), Funifuti
??????, Spring 2023 Immigration Administration, Atlanta
??????, Spring 2023 Immigration Associate, Atlanta
??????, Spring 2023 Intensive Case Management, Atlanta
??????, Spring 2023 Social Adjustment, Atlanta
??????, Spring 2023 Resettlement Services, Atlanta
??????, GEDI Great Lakes, Nairobi
?????, Special Projects Associate, Atlanta
?????, Netherlands & Germany Researcher, Remote
?????, Outreach & Development Officer, Remote
?????, Fundraising Officer, Remote
?????, Design, Monitoring, Evaluation, and Learning (DMEL) Officer, Remote
?????, Senior Evaluation and Research Associate, Washington DC
?????, Program Associate, Northeast Asia, Washington DC
?????, Program Associate - Asia Regional Youth , Washington DC
?????, Senior Program Associate - Election Integrity and Party Support, Washington DC
?????, Senior Evaluation and Research Associate, Washington DC