Article
In discussion...The Africa and International Studies Working Group
This article was written by
Chrissie Duxson, BISA Communications Manager
This article was published on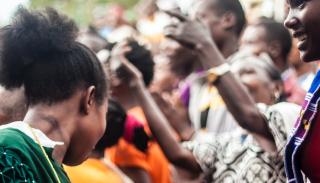 BISA Communications Manager, Chrissie, recently met with the new Africa and International Studies Working Group conveners – Peter Brett (QMU) and 'Dele Kogbe (Dundee) to find out all about their forthcoming events, new PGR reps and more.
In addition to a full day of panels on the theme of 'Architechture and politics in Africa' taking place on 16 September, they also have plans for book symposia and blog pieces written by group members.
The Africa and International Studies Working Group is a place where postgraduates and early-career researchers can get extra support from people working on African issues, including discussing ideas and presentations. More experienced group members are leaders in the field, and both Peter and 'Dele are keen to make the sure the same opportunities are available for new scholars that were available to the both of them when they first joined BISA.
Watch our discussion now to find out more.