Article
Methodologies in International Relations: Doing systematic reviews
This article was published on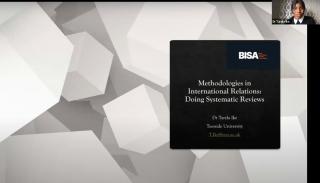 This Africa and International Studies Working Group online event took place on 19 June 2023.
Evidence based synthesis is crucial to understanding trends within disciplines and informing policies. Yet, within the context of International Relations, there appears to be a limited emphasis on the use of systematic review approach in examining interventions on what works and ways forward to inform gaps and better policies. This training is designed to introduce the audience to how to conduct effective systematic reviews and evidence-based syntheses.
Dr Tarela Juliet Ike: Tarela is a Senior Lecturer at Teesside University, UK. Tarela has been actively engaged in the conduct of review such as rapid evidence assessment and systematic reviews to inform policies and the design of evidence-based interventions.
If you missed the event you can watch the recording now.