Article
Britain, empire and the hostile environment
This article was published on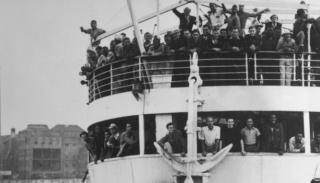 The question of borders and migration is one of the most contested and urgent political issues of our time.
In Britain, we have seen this expressed through a growing number of crises connected to the UK Home Office's Hostile Environment policies, which has sought to redefine and deepen how Britain's borders are constructed, controlled and enforced. With recent events around Brexit, the Windrush scandal and migrant detention, borders have become increasingly commonplace in public debates. However, popular discourse has often overlooked the significance of Britain's imperial legacy in understanding the Hostile Environment and borders more generally. This event brings together researchers, scholars, activists and practitioners to analyse the relationship between empire, colonialism, racism and borders. In doing so, this event will ask how the connections between empire and borders can help us better understand what Britain is and where it is heading.
Speakers:
Dr Nadya Ali – Lecturer in International Relations, University of Sussex. Nadya's research examines the counter-radicalisation strategy, Prevent, and its racialised and gendered government of Muslim populations in Britain. Her work intersects with the wider themes of border politics, citizenship and British (post-)imperial identity formation in the 'war on terror'.
Gracie Bradley – Advocacy and Policy Officer, Liberty. Gracie leads Liberty's work to oppose Hostile Environment policies and is part of the of the Against Borders for Children campaign.
Dr Nadine El-Enany – Senior Lecturer in Law, Birkbeck, University of London and co-director of the Centre for Research on Race and Law. Nadine's research focuses on migration and refugee law, European Union law, protest, race, and criminal and social justice. Her book, (B)ordering Britain: Law, Race and Empire is out with Hart next year.
Maya Goodfellow – PhD Candidate, SOAS, University of London. Maya is a researcher, freelance writer/ columnist and author of a  forthcoming book on British immigration rhetoric and policy.
Dr Luke de Noronha – Postdoctoral Fellow, Sociological Review and Associate Lecturer of psychosocial studies at Birkbeck College, University of London. Luke's research focuses on the deportation from the UK to Jamaica, exploring the lives of deportees in Jamaica as well as their friends and families who remain in the UK.
Chaired by Kerem Nisancioglu, Lecturer in International Relations, SOAS, University of London
Wednesday 19 September, 5pm – 7pm
Location: Laws 210, Queen Mary University of London, Mile End Rd, London E1 4NS