Article
FPWG Event Report: Understanding foreign policy making within Area Studies
FPWG members Marianna Charountaki and James Strong organised this workshop at Queen Mary University of London on 17 December 2019.
This article was written by
James Strong
This article was published on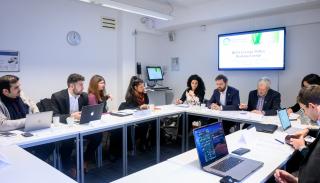 The workshop brought together scholars working in the adjacent fields of Foreign Policy Analysis and Area Studies, including Professor Tony Chafer, the President of the UK Council for Area Studies Associations, to discuss the mutual complementarities between their approaches. It aimed to foster mutual understanding, and to support intellectual cross-fertilization between colleagues whose research focuses on abstract questions of how foreign policy decisions are made and those who focus on the specifics of particular empirical cases.
Eight paper-givers presented across three panels covering ontological, theoretical and decision-making dimensions. The case studies discussed included European, Middle Eastern, South African, US and UK foreign policy.