News
Call for participants: Feminist solidarities in times of crises
This article was published on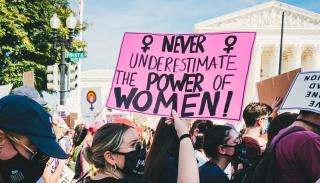 The Gendering International Relations Working Group (GIRWG) are delighted to call for participants for a forthcoming event on 'Feminist solidarities in times of crises' to be held on 14 November 2022, 1.00pm-4.00pm.
The last few years have heralded not just a series of perhaps previously unimaginable international crises but also crises which have a particular impact on women and/or minorities or have particular gender related facets and implications. 
The event will comprise two parts: the first will be two roundtables to highlight some of the ways in which the recent crises require the mobilisation of gendered narratives and result in particular gendered implications. The second part of the event is a discussion about ways in which we can build practical mechanisms for maintaining feminist solidarity in these troubled times. 
To facilitate the widest range of attendees, this event will be held online via Zoom. The event will be free for BISA members to attend, non-members are very welcome but will need to pay a small fee. 
We are also planning an in-person event for the Spring of 2023, more details to follow. 
At this time, we are inviting individuals to speak as part of the two roundtables. If you would like to be involved, please email us at: girwg.group@bisa.ac.uk by 7 November 2022.
If you have any questions please contact GIRWG co-convenors Lindsay Clark and Annika Bergman Rosamond.