News
Call for papers - 15th Annual Conference of the US Foreign Policy Working Group
This article was published on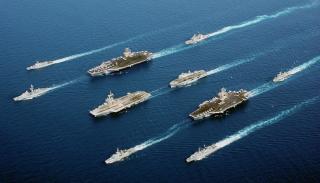 Age of Antagonism: US Foreign Policy in an Era of Strategic Rivalry and Great Power Competition
14-15 September 2023
School of Politics and International Relations (SPIR), Queen Mary University of London
The theme of the 2023 US Foreign Policy Working Group Conference is the role of the United States in an era of strategic competition, reflecting key themes of the Biden administration's 2021 Interim Strategic Guidance and the 2022 National Security Strategy of the United States. Panels, papers and roundtables will address the role of the United States in response to the Russo-Ukrainian War, long-term political, economic, and military competition with China, the future of economic engagement, the challenges posed to US foreign policy by the rise of nationalist populism and the aftermath of the January 6th Capitol riot, as well as the revitalization of NATO and US alliances and partnerships under President Biden following on from Donald Trump's 'America First' stance. To this effect, the conference seeks to attract high-profile academic and non-academic keynote speakers and participants from the United States to facilitate and promote a stimulating exchange of thoughts on the nature of American leadership in international politics.
Beyond the conference theme, we invite proposals of individual papers, panels, and roundtables on any aspect of US foreign policy, contemporary or historical. We also welcome proposals from a range of scholarly perspectives, including International Relations; Political Science; History; Economics; and other related disciplines. Possible topics for papers and panels might include US foreign policy in relation to race, gender, and human rights; regional/global power shifts; grand strategy; terrorism and counterterrorism; cyberwarfare/security; energy security; nuclear weapons; trade and finance; multilateral organisations and institutions. We are also supportive of panels that incorporate outside perspectives such as Chinese, Russian, Iranian or European reflections on US foreign policy.
We are keen for papers to reflect the diversity of US foreign policy scholars and expertise by encouraging papers from women and BAME delegates. We also have a limited number of bursaries available for Early Career Researchers on fixed-term contracts (teaching fellowships, postdocs, etc.), including PhD students. If you want to be considered for an ECR bursary, please submit a CV with your details. As funding for ECRs is provided by BISA, you must be a member of BISA in order to be eligible. Membership details can be found here: https://www.bisa.ac.uk/become-a-member
We will also organise a conference dinner, which all delegates are invited to and can attend for an extra fee, paid at the point of conference registration. The pricing structure for conference attendance is as follows:
BISA members: attendance is free, surcharge for conference dinner: £50
Non-BISA members: attendance is £75, surcharge for conference dinner: £50
Non-BISA ECRs: attendance is £25, surcharge for conference dinner: £25
Proposals for individual papers (200 word abstract, including institutional affiliation), panels (4 paper abstracts plus chair/discussant), and roundtables (5 participants, incl. chair) should be submitted to the BISA USFP Working Group convenor, Dr Georg Löfflmann: usfp.group@bisa.ac.uk
The deadline for all submissions is Friday, 30 June 2023.
Please also indicate with your submission, if you wish to attend the conference dinner on Thursday, 14 September.
For regular news and updates on the BISA USFP Working Group, you can also follow us on Twitter: @USFPgroup; and join our Facebook group: https://www.facebook.com/groups/USFPWG/