Article
In discussion: James Rogers
This article was published on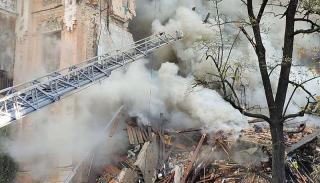 Hear all about Dr James Rogers, co-convener of the War Studies Working Group in this new 'In discussion' video with BISA Director Juliet Dryden. 
James Rogers is a drone specialist with a new book 'Precision' coming out next year through Manchester University Press. He is Associate Professor at the Department of Political Science at SDU and Associate Fellow within The London School of Economics and Political Science's foreign policy think tank (LSE IDEAS). 
In this interview with Juliet Dryden he discusses his research on drones, which is especially important after the news that Russia has attacked Ukraine using drones this week.
James also discusses his upcoming work with the UN security council where he will be advising on the transnational threat of drone use, and the upcoming plans for the War Studies Working Group, particularly at the #BISA2023 conference. The underlying message is that any scholar working on any aspect of war is welcome to join the group.