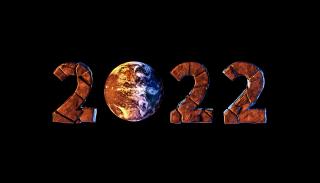 Into 2022 - A new year message from our Director
This article was published on
I hope 2022 finds you safe and well. I would like to start the year by conveying a message of hope and optimism for a healthy and safe 2022, in which we can all begin to live our lives to the fullest once again, both personally and professionally.
Here at BISA, we remain the go-to association for International Studies experts, those with an interest in international politics and keeping up with the most recent trends in the discipline. With a membership now reaching just short of 1,500, we are busy planning for the year ahead with an exciting range of events on offer, and many research opportunities planned for the coming months (more on this below).
Despite BISA's difficult financial circumstances, 2021 was a hugely successful year in terms of increasing our membership, putting on a record number of virtual events and activities, and holding a very well-attended virtual conference. We are also making strides in our campaign to defend the social sciences and embed EDI into everything we do. We must not be complacent though – only with your continued support and enthusiasm throughout 2022, can we improve our record and hopefully begin to reintroduce some face-to-face events into the calendar.
To assist us with our work, I urge you to please renew your membership on time, fully engage with our working groups, journals and Postgraduate Network (PGN), register for our upcoming  conference in Newcastle, and support BISA in any other way you can, to ensure that 2022 is even more successful. This is your Association and we want to ensure you are rewarded for  your commitment to us. Please do spread the work about our activities amongst your networks. You can even take advantage of three months free membership with our referral scheme. If you are not a member, do please consider joining us. We are open to everyone and have membership discounts for students, ECRs, global scholars and retired members.
Events
2021 saw over 65 virtual events with registration levels peaking at over 2,500 people. These were mostly organised and led, with BISA assistance, by our working group conveners, journal editors and PGN committee. I would like to say a big thank you to all of you who have helped put on so many wonderfully interesting events on in 2021 and now into 2022. We recognise that your work is entirely voluntarily and, judging from the feedback we receive, there is huge appetite from members and non-members for more events and activities of a similar kind. Some of our 2021 events were recorded and you can find these on our YouTube channel.
Our 2022 calendar of events is taking shape starting with the very popular 'Writing for a Policy Audience' with Dr Clare Lynch (Cambridge), on 20 January 2022. This is the second workshop on writing skills organised by our postgraduate network. We also have the 'European Security 6th annual workshop' on 21 January organised by the European Security Working Group and 'IPE in (post)-pandemic times' on 27 January organised by our International Political Economy Working Group, amongst others.
This quarter you can also look forward to a BISA-led climate change negotiation simulation, and another model NATO event with the FCDO in March. Additionally, we have launched a brand new book club for our members to join led by BISA committee trustee Dr Nick Caddick. The first discussion on 16 February will look at Professor Jenny Edkins' (University of Manchester) 'Trauma and the Memory of Politics' so do please sign up if this interests you.
For more information on all our events please visit our events pages regularly.
#BISA2022 in Newcastle
We are very excited to be returning to our first face-to-face conference for almost three years in Newcastle from 15-17 June. It is a great opportunity for you all to reconnect with old friends and colleagues, share your research and learn about what others have been doing. Our new conference chairs, Dr Georgina Holmes (KCL) and Professor Kurt Mills (Dundee), have been busy building the programme to ensure the conference is both critically engaging and stimulating under the theme 'Can the World Survive?' Panels will explore how well the world is cooperating to address global challenges, and whether there have been any major shifts in global politics taking place out of sight.
In addition to three days of F2F panels, roundtables and keynotes, we are also putting together a virtual stream on 14 June for those unable to physically attend, and a programme of fringe activities build around the conference. These include a day of ECR development workshops on 14 June, some professional development events - including the ever popular 'Meet the Editors' - and a joint panel with the PSA on 'Career trajectories and diversity within the profession'. The latter follows up on the 2021 BISA/PSA report 'Career trajectories in politics and IR departments'. There will also be a public debate on poverty, a photography exhibition and an early morning Toon run, as well as the very popular annual BISA reception held this year at the Wylam Brewery in Newcastle.
Registration will open on 17 January 2022 so please do sign up to secure your place as soon as possible.
Journals
The two editorial teams from our journals – Review of International Studies and the European Journal of International Security have been busy putting together new editions with the support of our publishers, Cambridge University Press. You may have seen some of the interviews we have conducted with editors and article authors. These highlight their work and bring you the key messages in an easily digestible format.  Along with article summary blogs, these will continue throughout 2022. You can look back at all our analysis pieces on the analysis index page and see the interviews on our RIS playlist on YouTube.
Prizes and awards
Nominations for our annual prizes will open next week (week commencing 10 January). It's a real pleasure to see these prestigious awards made each year and I hope you'll consider making a nomination to one of the categories. Look out for more information across our website and social media.
Supporting you
As we continue to face uncertain times, we remain optimistic that things will start to improve as the year progresses. We are committed to supporting the community of scholarship in International Studies in any way we can. If you have any suggestions of additional ways we can serve our membership, please do get in touch with me on Juliet.Dryden@bisa.ac.uk.