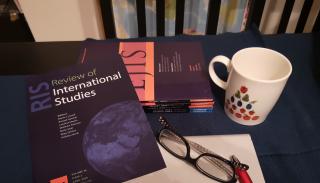 BISA journals uncovered – bringing you the latest research
This article was published on
Our journals position us at the forefront of the latest developments in International Studies. Review of International Studies (RIS) publishes the very best original research in International Relations, the European Journal of International Security (EJIS) publishes theoretical, methodological and empirical papers at the cutting edge of security research.
We're pleased to announce that over the coming weeks and months we'll be showcasing a wide range of articles from both our journals.
Article authors will be using this website and our YouTube channel to bring you interviews and accessible summaries that will allow you to digest the key points from each article. Whether you want to know more about the types of article we publish, use the summaries as a way to decide which articles to read in full, or take in the main points from a wider range of IR topics outside your expertise, we hope you'll find this useful.
Martin Coward, Editor of RIS, said:
"Showcasing articles in this way will make RIS articles accessible to new audiences including non-specialists. I'd strongly encourage our authors to take up this opportunity as they'll benefit from having their work showcased more widely.
BISA Director Juliet Dryden, who is conducting many of the author interviews, said:
"Speaking with the authors has been fascinating and has certainly helped me to learn more about the cutting-edge research being conducted across the IR spectrum. I hope our members will find this as beneficial as I have."
You can watch our first interview with Charlotte Heath-Kelly and Laura Fernández de Mosteyrín on their article 'The political use of victimhood: Spanish collective memory of ETA through the war on terror paradigm' now. Next up we have a summary video from Tracy Adams and Zohar Kampf on their article 'Solemn and just demands': Seeking apologies in the international arena', and an interview with Sindre Gade Viksand on 'Contentious colonies: The positional power of imperial peripheries'.
EJIS will be concentrating less on author interviews, but looking to give focus to events surrounding their book symposium on securitisation coming out early in 2021, as well as the 2021 BISA conference.
Edward Newman, Co-editor of EJIS, said:
"We're committed to raising the profile and visibility of the journal in the field and attracting the best scholarship. Highlighting our articles and activities in a new way will go towards achieving this aim. We're already on course to achieving a strong impact factor when the journal becomes eligible."
Accessing the journals
If you're a BISA member you can access our journals as part of your membership package. Just log in to your BISA account and scroll down to the member benefits section. If you're not a member you may be able to access the journals via your institution, but why not look at all the other benefits you could access by becoming a BISA member, and join today.