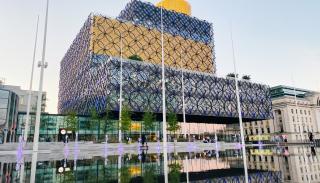 #BISA2024 to be held in Birmingham
This article was published on
Following a very successful #BISA2023 conference last week, we are delighted to announce that the 2024 annual conference will be held in Birmingham.
Next year's conference dates will be 5 – 7 June 2024, and the conference will be organised with the support of the POLSIS Department at the University of Birmingham. More specifically the conference will be held around Centenary Square, which boasts key venues such as the Rep, Library, ICC and Symphony Hall. The key venue for delegates will be the Hyatt hotel.
The team from Birmingham will be led by Professor Mark Webber, Dr Columba Achilleos-Saril and Dr Mwita Chacha.
Further details, including the call for papers, will be released following the UK summer break.
Top image provided by Farin Sadiq via Unsplash