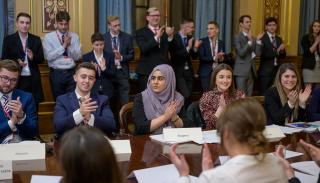 BISA/FCDO Model NATO 2021 - crisis details and country briefings released
This article was published on
With just two weeks to go until our 2021 Model NATO, details of this year's crisis have been released and country briefings sent to participating students.
We're delighted to have been able to pivot the event successfully to a virtual platform so that this year's cohort of students don't miss out on this valuable learning opportunity. Run in partnership with the Foreign Commonwealth ad Development Office (FCDO) and NATO's Public Diplomacy Division, Model NATO replicates the work of the North Atlantic Council in dealing with a major crisis. This year, the delegates have been warned to expect a series of major seismic events – earthquakes, volcanic eruptions and tidal surges – in the Mediterranean and Atlantic.
The country briefings received by the students give them important facts and figures about their allocated country. Prior to the event the students will research their country's position, paying particular attention to national assets (both military and civilian) which might contribute to a NATO crisis-response operation. They will also look at what existing national emergency plans their country has in place, and what additional support they could seek from their NATO allies. Countries were allocated to delegates at random during a draw.
Vanessa Sa Quintal from Coventry University said of her experience so far:
"Model NATO gives me a chance to collaborate to a more equal world. Not only that, but it allows me to better understand crisis management and power dynamics between the allies. My teammate and I are preparing by using the materials and sources provided by the Model NATO team, as well as doing our own research utilising government databases, peer-reviewed journals, academic articles and, most importantly, NATO publications."
Vanessa has documented her learning further in a short video which can be seen at the end of this news story.
Both the FCDO and NATO themselves are keen for students to gain a real-life insight into diplomacy and, through simulation, to obtain an appreciation of how the Allies together might deal with an emergency situation.
Our representatives said:
"The UK seeks to promote NATO amongst a younger audience as a values-based Alliance, to which the UK is a key contributor and as a platform in which North America and Europe tackle some of the biggest security threats of our time. By hosting the 2021 Model NATO, we are upholding our commitment to boosting NATO's image for a younger population throughout the NATO2030 campaign and beyond."
"We believe that this type of engagement can have long term benefits for the Alliance. We see Model UN thrive in all corners of the globe as a forum in which students can develop their thinking, leadership and diplomacy skills and we seek to replicate the success of Model UN to ensure that the next generation is invested in the purpose of the Alliance for years to come. This is why BISA is best placed to bring together motivated students to practice their critical thinking and crisis management skills for this year's virtual meeting."
All the students taking part in the Model will receive a Certificate of Participation. There will also be two prize certificates overseen by an Awards Committee comprised of selected members of the sponsoring institutions and academic faculty.