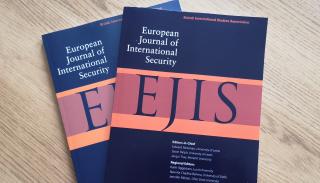 An update from the European Journal of International Security
This article was published on
Book symposium
This month, the editorial team at the European Journal of International Security is pleased to share a symposium on 'The morality of security: A theory of just securitisation' by Rita Floyd. The symposium features responses to the work from Ian Loader, Jessica Wolfendale, Fiona de Londras, Paul Roe and the book's author, Rita Floyd. The symposium is available in Open Access.
FirstView
In FirstView this month, Banta and Kaufman reflect on the implications of integrative pluralism and security studies for International Relations theory, whilst Gregory explores the role of counting civilian casualties in his article 'Calibrating violence: Body counts as a weapon of war'. Shetty's recent article titled 'The role of non-elites and eyewitness videos in the visual securitisation of Calais asylum seekers' is also now available in Open Access.
ISA 2022
At the end of March, EJIS Co-editor Jason Ralph will be representing EJIS at the ISA 2022 Conference, Nashville. See the programme here.
Pre-submission feedback
Finally, for those based or trained in global regions underrepresented in the fields of International Relations and security, don't miss the opportunity to gain pre-submission feedback on your research. Contact F.Petrizzo@leeds.ac.uk to learn more.
Follow us on Twitter @EJIntSec to keep up-to-date on upcoming publications and events.