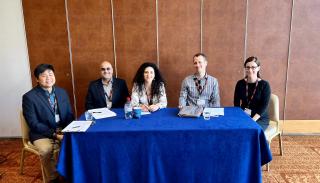 A year in working groups – 2021/22
This article was published on
After a successful BISA 2022 Annual Conference, showing the strength and depth of our working groups, we thought now would be a good time to reflect on what our working groups did in the last BISA year, which runs 1 April to 31 March. Below are summaries from some of our working groups explaining what they did last year.
The South East Europe Working Group hosted two roundtable events at BISA 2021: The Art of Forgetting IR: Aesthetics, Creative Methods and the Politics of War and Peace, and Within/Without: Strategies and possibilities for cultivating knowledge with the Global East. Roundtable participants were invited to write a short blog piece for the BISA South East Europe Working Group website. Four blog posts were published in March 2022. This was timed to encourage working group members to register for BISA 2022. We also organised and hosted two online half-day workshops in April and November 2021, aimed at postgraduate research students and early-career researchers. These featured short research presentations, methods café events, and space for networking and discussion. Events were well-attended and praised for facilitating networking and discussion between PGR/ECRs.
Our Annual General Meeting (AGM) was held on 23 June 2021. Conveners discussed plans for upcoming events, BISA 2022, changes to convenership, and plans to advertise for a new convener and a PGR convenor. Çağlar Ezikoğlu stepped down as a convener after his two-year term — he has been a great part of the team and we are grateful for his contribution. Lydia C Cole and Katarina Kušić are continuing for another two-year term. The conveners are hoping to appoint a third convener and a PGR convener – to be discussed at BISA 2022.
The Global Health Working Group (GHWG) has had a good year, despite (or rather because of) current challenges. As conveners, we have initiated a number of activities to raise the profile of the group and engage people in debates on global health.
We followed up on our first pandemic-related event held on 25th February 2021 ('The role of IR in a pandemic') with a second pandemic-related event on 7 May 2021, on 'Health diplomacy in times of pandemic', jointly organised with the Foreign Policy Working Group. The speakers were Professor Stefan Elbe, University of Sussex, and Dr Daniela Irrera, University of Catania, and the event was very well attended with over 20 people. It gave rise to lively discussion and firmed up connections between two different BISA sections. Co-organising an event also constituted a significant step towards raising our profile as a section within BISA.
We hosted two sessions at the annual conference in June: a roundtable on 'The UK's role in global health security and COVID-19'; and a panel on 'The prioritisation of health: national, regional and international perspectives'. We also held a coffee chat/catch up session at this conference. The 2022 conference will be even busier, with three panels planned in total.
We wrote a blog for the website highlighting all the ways our members are contributing to research on the COVID-19 pandemic. Professor Sophie Harman's guide to supervising COVID-19 dissertations was also featured. We are currently planning to do an updated version of current projects, and are also adding in other ways to our online presence. For example, on the initiative of new co-convenor Christopher Long, we have begun to conduct short podcast-style interviews with members of the Global Health community, which are hosted on the GHWG website in order to enhance the section's visibility. The podcast will gather short snapshots into the research interests and experiences of many of the key investigators in the global health arena. This plan has already been very well received in the wider Global Health community, with significant interest from the ISA's Global Health Section. We hope that this will firm up connections between sections, and enhance visibility of the BISA section within the very international contingent of Global Health scholars.
Our team of conveners changed in November, as Dr Stephen Roberts (University College London) stepped back from his role. His position was filled by Dr Christopher Long (University of Sussex), who has already introduced a host of new ideas and initiatives to this year's plans. He joins the other current convenors Dr Adele Langlois (University of Lincoln), and Dr Eva Hilberg (University of Sheffield).
The official GHWG mailing list has a strong presence once again, as we send out regular emails with calls for papers, events, jobs, teaching aids and other opportunities relevant to our members.
Our conveners are currently David Karp (University of Sussex), Robin Dunford (University of Brighton), Susan Murphy (Trinity College, the University of Dublin). EWP WG convened three panels, one networking event, and one roundtable event at BISA's 2021 conference. The three panels were entitled: 'Hegel/Hegelianism and Ethics in IR'; Global Ethics in a Pluralist World; Ethics and World Politics, and the roundtable entitled 'Global Justice and Social Conflict: The Foundations of Liberal Order and International Law'.
EWPWG conveners met on three occasions throughout the year to discuss planning, activities, and events for 2022 including BISA 2022 conference and wider event planning.
On 31 March 2022 we held a book launch for James Souter's (University of Leeds) Asylum as Reparation: Refuge and Responsibility for the Harms of Displacement, 2022, Palgrave Macmillan.
We have several panels and WG meetings scheduled for BISA 2022 Annual Conference, and are planning a workshop from in late August called The Ethics of Border Control in a Digital Age, with Prof. Alex Sager, Department of Philosophy, Portland State University and Dr Natasha Saunders, School of International Relations, University of St Andrews.
We co-sponsored a seminar on 'Foreign Policy and Genocide' with the Foreign Policy Working Group on 7 June 2021, organised by James Gow and Marianna Charountaki. The panel comprised Professor James Gow (King's College London): A Brief History of Foreign Policy and Genocide; Dr Maria Varaki (King's College London): The cases of Myanmar and Syria; and Mrs Sheraz Ibrahim (PhD candidate, University of Lincoln): Legal grounds of Genocide — the case of the Yazidis. The Seminar was attended by a range of scholars, research students and practitioners internationally.
We sponsored a virtual roundtable on 'Accountability for atrocity crimes in the post-Nuremberg era' on 18 March 2022 that was organised by Melissa Rankin from the University of Queensland and involved a range of practitioners and academics across multiple time zones. We successfully applied for sponsorship from BISA to cover the registration fees of scholars from the Global South.
We received submissions for one roundtable and 14 individual papers for the in-person annual conference. Three panels (each consisting of 4-5 papers) and the roundtable were accepted onto the final programme. We also accepted one roundtable for the virtual stream of the conference.
The International Political Economy Working Group's (IPEG) Annual General Meeting was held online, on 16 June 2021. We hosted two online events, the first entitled 'COVID responses and the managerial threat to higher education' on 8 July 2021 in collaboration with a number of other organisations in this field. The second was 'navigating the academic job market', 30 November 2021, oriented towards ECRs. Our IPEG annual workshop 'IPE in (post) pandemic times' was held virtually on 27-28 January 2022. 28 papers were presented, with a keynote from Shirin Rai and roundtable discussing how to get published in IPE, featuring journal editors from the Review of International Political Economy, New Political Economy, Global Society, Global Political Economy and Journal of Common Market Studies). Kate Bedford gave our Book prize lecture in early December 2021 (with contributions from Lisa Tilley and Donatella Alessandrini).
The Review of International Political Economy (RIPE) sponsored the IPEG workshop in January. RIPE is also sponsoring a lunch at the forthcoming BISA conference. The 2021 IPEG book prize for best book published in IPE in 2020 was awarded to Susanne Soederberg for her book Urban Displacements: Governing Surplus and Survival in Global Capitalism. We also published two blogs (with accompanying audio files) on the website on the topic of embodied inequalities. We nominated one panel as part of the BISA allocated panels at the ISA 2022 convention in Nashville – a roundtable entitled 'Governing Global Displacement in a Smaller World' (accepted to the ISA programme), and submitted a nomination to the BISA 2021 Susan Strange book prize – Nicholas Jepson's In China's Wake (Cornell 2020).
We established a new convener team in March 2022: Melita Lazell (University of Portsmouth), Nicola Smith (University of Birmingham), Mareike Beck (King's College London), Sandy Hager (City, University of London), Zoe Pflaeger Young (De Montfort University), and Roberto Roccu (King's College London). We had 11 panels at the annual conference in Newcastle.
At the BISA Annual Conference June 2021, the European Security Working Group sponsored and contributed a number of panels and roundtables. The panels included PhD students, ECRs and senior academics. The panels attracted both established working group members and researchers engaging with us for the first time. In July 2021, we held our Annual General Meeting, which was not as well attended, probably given that it fell in the holiday period. In early 2022, we organised and hosted our 6th annual workshop, which took place virtually on 21 January, with the theme 'Europe's Wider Outreach: Projecting Security and Defence in the World'. It received many participants and a supportive audience of varied experience.
We started a new format of events focusing on book launches/talks. This event series commenced in October 2021 with a talk on The EU Security Continuum by Alistair Shepherd, one of our working group members. The second event was 16 March 2022, with a talk on Coalition of the unWilling and unAble: European realignment and the future of American geopolitics, by John R Deni.
In autumn 2021, we launched a newsletter which we circulate via our mailing list every two to three months. For 2022, the conveners of the European Security Working Group are planning additional events such as a joint event with the Foreign Policy Working Group as well as a number of book talks and roundtables, which will primarily take place in a virtual setting.
The WG Conveners are Dr Tom Pettinger, Dr Alice Martini, and Dr Raquel da Silva. The Critical Studies on Terrorism (CST) Working Group hosted five panels at BISA 2021, and five at EISA 2021. At ISA 2022, the Working Group convened a Roundtable discussion: 'Contemporary Reflections on Critical Studies on Terrorism'. In the last year we convened five seminars/panels on "methodological issues within Critical Studies on Terrorism". At the annual CST conference 2021 we hosted two panels, a Keynote speech, and artist presentations. Elections for two new conveners are set to take place in June 2022, with terms beginning in September 2022.
This year the EPIR group saw a change in convenership. Naomi Head, Amanda Beattie and Clara Eroukhmanoff stepped down after the 2021 BISA conference, to be replaced by Audrey Reeves, Sarah Tafakori, Alister Wedderburn and Chaeyoung Yong. Naomi, Amanda and Clara were in charge of the activities for the first three months of the period under review, and made significant contributions to BISA's 2021 conference, sponsoring two panels and two roundtables.
After taking over in July 2022, Audrey, Sara, Alister and Chaeyoung organised two events. The first, held jointly with the Interpretivism in International Relations Working Group, was a virtual event entitled 'Affect, embodiment and the curation of war: Reconciling remembrance and social justice', which we held on 25 October 2021. The second was a virtual, all-day postgraduate/ECR workshop entitled 'Researching Emotion in IR: A Conversation on Methodologies', which we held on 15 March 2022. This featured a keynote from Roland Bleiker (University of Queensland) as well as 'Masterclasses' from Todd Hall (University of Oxford) and Jessica Auchter (University of Tennessee, Chattanooga) and 'Methods café' sessions. We invited 39 of postgraduate and early career researchers to the workshop. This event successfully gathered the participants thanks to a grant from BISA's Virtual Event Fund, which supported the membership costs of ECRs and postgraduate non-BISA members.
Both these events have led to an increase in our membership, which now stands at over 80 members. We look forward to building on this success over the coming year. We have proposed the idea of a joint event on decolonising emotions to the Colonial, Postcolonial and Decolonial Working Group. Conveners from both our groups will be meeting soon to discuss possibilities.
The convener of the FPWG is Marianna Charountaki (Lincoln University), and deputy convenor is Cornelia Baciu (University of Copenhagen).
On the occasion of the pandemic, we have mainly focused on the pursuit of online activities. From the very beginning when we took on our role the main aim was to strengthen the ties of our network and increase members. Another target this year was also to further institutional cooperation and expand BISA's relations to other institutions. Joint events with other working groups has been also a priority. The contribution to BISA's annual conference has been active and direct.
A group newsletter was launched during the current convenership to share current events, members' research, publications and calls for applications. We a sponsored a virtual Panel 'Non-State Actors and Foreign Policy Making: A Change in Progress' at ISA Annual Convention 2022. At the annual BISA conference this year we hosted a BRISMES and BISA Joint Panel: International Relations of the Middle East in pursuit of the Sister Joint Scheme undertaken by BISA in collaboration with BRISMES. This is an important initiative that demonstrates our determination to connect BISA to other institutions and events. The bridge of the gap between the theoretical and empirical/regional expertise is also of substantial importance for the future of the discipline and studies.
We held many events this year including:
08.03.2022 - Extensive Roundtable: Women in foreign policy research and beyond
23.02.2022 - The Role of Think Tanks in the Foreign Policy Making Process
26.01.2022 – India's foreign policy: a book discussion
24.11.2021 - What does the withdrawal from Afghanistan mean for peacebuilding, multilateral institutions and the region ((in collaboration with the relevant WG)
10.11.2021 -   The return of neutral foreign policies: Eurasian developments
07.10.2021 - Foreign Policy Analysis in the Middle East: Leadership, Threat Perception and Intervention
30.09.2021 – Leadership and foreign policy: nuanced approaches 
08.06.2021 - Book discussion: The Politics of Military Force
07.06.2021 - Foreign Policy and Genocide (in collaboration with the relevant WG)
18.05.2021 - Critical Approaches to Foreign Policy
07.05.2021 – Health diplomacy in times of pandemic (in collaboration with the relevant WG)
09.04.2021 – Russia's return to MENA: a book discussion
30.03.2021 - Navigating post-pandemic geopolitics: Greek and Cypriot foreign policies after covid-19
26.02.2021 - BISA FPWG Networking Event
Our annual general meeting was held online on 5 October 2021.
The 8th Global Nuclear Working Group Annual Conference was hosted by Kings College London, School of Security Studies. The conference ran online from 2-3 December 2021, with a theme of 'Reassessing Key Debates in the Nuclear Field'. We had a varied line up of experts, from early-career researchers to international experts, addressing uncertainty and stability as core nuclear concepts, the future of deterrence, and strategy and culture.  On the second day of the conference, we addressed narrative, discourse, and gender, as well as the Treaty on the Prohibition of Nuclear Weapons in its first year. The conference was well attended, and the discussions were lively, particularly the last session. The conference was recorded, and recording of sessions were posted onto the KCL website. 
At the BISA annual conference we held a roundtable on 'Un-Siloing nuclear weapons in an age of pandemic, climate crisis, and global injustice: On the need to connect existential threats'. We also held three panels: 'Perceptions of nuclear weapons - risk, predictability and trust in nuclear politics'; 'Reconsidering stability - the risks of deterrence and disarmament'; and 'Nuclear weapons in a changing world'.
Dr Laura Considine (University of Leeds) will be stepping down as group co-convener after holding the role for three years. There are two other conveners in place, Dr Patricia Shamai (University of Portsmouth) and Dr Nicola Leveringhaus (Kings College London). They will continue to run the group and will look for a third convener to join them next year to ensure continuity when their terms end.
In September 2021 there was a full change of working group conveners: Henrique Tavares Furtado (UWE Bristol) and Jeffrey Whyte (Manchester) became co-conveners, and Uygar Baspehlivan (Bristol) became PhD convenor. For this year's BISA conference, we organised four paper sessions, as well as one roundtable discussion comprised of past PPWG convenors that will reflect on the past, present and future of post-structural politics in International Studies. The current conveners are planning to adapt the group's existing interview series into a podcast series with the potential to reach a wide academic audience.
This year was the first full year of activity for the new co-convener team of Heba Youssef, Jenna Marshall and Sharri Plonski, with Gargi Bhattacharyya as ongoing mentor for the working group.
We had a huge number of submissions for the 2021 conference and needed to request extra space. We sponsored seven panels and roundtables, two of our team also co-chaired one of the keynote roundtable events, and we saw CPD's core themes and concerns hold a strong presence at the 2021 conference.
June 2021 also saw us launch two major new initiatives: the CPD ECR paper prize, in collaboration with Review of International Studies, and the new CPD blog. The paper prize was created to support the career development of our more precarious colleagues, while at the same time carving out space in International Studies to engage with the question of empire and coloniality as fundamental to the discipline. Eligibility was oriented towards both students and those just out of their PhD. The prize included mentorship from members of the CPD community and the RIS team, and the paper would be submitted to the journal, where it would be sent directly to external reviewers. The winner(s) would also present their paper as part of a special roundtable. We received some incredible submissions to the prize, and awarded both a winner (Dr Maia Entwistle, SOAS) and an honorary mention (Asma Abdi, Sussex). A panel and award ceremony took place at the 2022 conference, to celebrate their achievement. We will continue the project in 2022-23 and launch the next prize at the June annual conference.
The blog project – coupled with a new online social media presence – is the initiative of one of our members, Dr Jasmine Gani (St. Andrews), who will be the project's first volunteer editor. The project's rationale stems from a need among those of us centring colonial, postcolonial and decolonial thought in our work for a space beyond academic publishing to share our research. In addition, the public intellectuals that shaped so many of us didn't only publish in academic journals. They were much freer with their thoughts and research. We felt that if we are committed to a decolonial and postcolonial ethos, we have a responsibility to produce spaces outside the contours of academic publishing. Therefore, the blog is being planned to offer a space for everyone in our community to share work in all forms. We would especially welcome think-pieces and works in progress, things that would not normally have a home in academic publishing. The co-conveners and our volunteer editor(s) will offer support and editing, as needed/desired by contributors; and ensure there is a balance of contributions from across different communities.
In November 2021, we began the process of seeking funding and direct infrastructural support from BISA to pay an intern and set up the blog on BISA's system. We hired Sarah Gharib Seif (St. Andrews) in this role. She began her contract in March 2022 and has been working directly with Chrissie Duxson to design and manage the site, with an initial skeleton launch planned for during the 2022 conference, and a full launch in September 2022.
At last year's conference, we launched a two-year project around which CPD would organise its events and intellectual projects. In keeping with urgent, high stakes struggles to challenge carcerality in the production of social life, we decided to work with 'abolition as an unanswered question', in slow, deep ways, across a range of activities. In 2021, this was the theme of our mentorship workshop, which took place as a virtual event in September 2021, and invited eight mentees, thirteen discussants and two keynote participants, alongside the co-convener team in the one-day workshop. We have continued the project with a roundtable at the 2022 conference and an application to Antipode for funding a writing collective based on this work. We are also planning a public event and full-day workshop on these themes in September 2022, and have submitted two roundtables to next year's ISA.
Since April 2021, we have committed ourselves to supporting our community of scholars and activists. We have shared four solidarity statements since we became co-conveners of CPD, in light of increasing pressure and disciplining of colleagues doing social justice work. We hope to increase our capacity for this work in the coming year by reaching out to colleagues across BISA and strengthening existing/ongoing cooperation begun this year.
The group conveners are Natasha Kuhrt, Precious Chatterje-Doody, Marcin Kaczmarski
Due to the pandemic, activity was lower than usual. However at the virtual BISA conference in June 2021 the working group fielded three panels, all of which were very well attended and had excellent engagement from the audience. These panels were entitled 'Russian security policy between the West and the Rest', 'Non-traditional instruments of Russian foreign policy: media, social media and strategic humour', 'Foreign events through the lens of Russian media'. We also held a networking meeting online, which was well attended.
In 2020 we had held several virtual webinars and roundtables separately from the conference, but due to very busy teaching schedules and some personal issues, the convenors had less time to organise these in 2021, and into the first part of 2022 our time was consumed by work/media appearances on Ukraine.
We plan to hold some virtual webinars in 2022-23, in all likelihood a virtual roundtable on the Russia-Ukraine war, perhaps with a focus on views from the Global South, given the underexplored nature of this perspective. 
The working group convened five panels at the 2022 in-person conference in Newcastle. At the 2022 conference, Dr Chatterje-Doody stood down, and a new co-convenor will be elected soon.