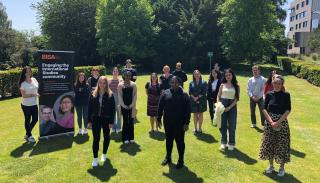 You said, we did - #BISA2021 conference survey feedback
This article was published on
Following the #BISA2021 virtual conference in June, we asked for your feedback on what worked well and what we could improve for #BISA2022 and beyond. We've looked at the results and we wanted to share the headlines. We're also keen to let you know some of the actions we've taken as a result of your feedback. It's important to us that you know how seriously we take your views - it's much more than a box-ticking exercise.
This year 28% of attendees at #BISA2021 completed our survey, up 3% from the previous one in 2019. Of those respondents 51% were based in the UK, but respondents came from 31 different countries.
Panels
In the first section of the survey, we asked about various aspects of the three days of panels. The percentages shown represent the respondents who rated these aspects as either 'excellent' or 'good'.
Diversity of panel topics– 93%
Size of panels – 92%
Panel format – 93%
Length of presentations – 85%
Diversity of panelists – 94%
Usefulness of discussants – 84%
To address the two lower percentages – length of presentations and usefulness of discussants – our conference chairs will be revising the conference roles document to make sure that all participants know what is expected of chairs and discussants. It was good to see that each of these percentages had improved from the ratings given after the 2019 conference in London, in particular the diversity of panelists.
Professional development, social and networking events
94% of respondents thought that social and networking events are an important part of the overall conference experience. Of course, these aspects are more difficult virtually, but for #BISA2022 we'll be running a programme of exciting fringe, social and networking events for delegates to enjoy. More information will be available on the conference website soon.
The day before the main conference begins, we'll be running some career and professional development events for early-career researchers. More information will be available soon.
Virtual conference
76% of respondents said they wanted to see a virtual element to the conference going forward. The most popular reasons were widening access and diversity. As many of you will know already, we're running a virtual stream of #BISA2022 on 14 June 2022 (subject to demand) so that those unable to travel still have the opportunity to present their research. We realise that a virtual conference doesn't replicate a face-to-face experience, so we have reflected this in the conference rates.
The environment
Since we are returning to an in-person conference for 2022, we've taken the opportunity to revisit the survey results from the 2019 conference. The environment and BISA's carbon footprint were a concern for many of you in the 2019 survey, and are also a priority for us. We have therefore come up with some initiatives to combat the carbon footprint of colleagues who have no choice but to travel by plane. Some improvements you will see in this area at #BISA2022 are:
we won't be giving out exhibitor and sponsor advertising in the canvas bags at registration. Instead, exhibitors and sponsors will have opportunities to advertise digitally, for example in an in-conference email
we've asked the conference venue to add recycling bins, particularly in the exhibitor and refreshment areas. We have also asked for cardboard cartons or cans of water to be used rather than plastic, with water filling stations for those who are able to bring reusable flasks or similar
any certificates of attendance will be sent electronically. Not only is this more convenient for delegates, but also means there is no waste from uncollected paper certificates.
Our final improvement for #BISA2022 is that we will have later start times each day compared to our last in-person conference in 2019. So no more 8am starts!
Submissions for #BISA2022 in Newcastle are open until Monday 15 November. Find out more on our conference pages.