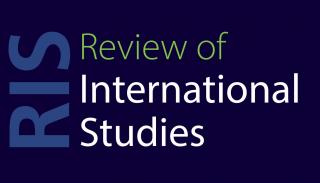 Best of Review of International Studies 2020/21 – editors' picks
This article was published on
It's been a year since we started bringing you the latest Review of International Studies (RIS) research in a new, more accessible format. Showcasing articles through written and video summaries, as well as author interviews, has helped to make RIS articles accessible to new audiences including non-specialists, and, we hope, given you the chance to digest the key points from each article quickly and easily.
To celebrate the first anniversary of this new initiative, and having showcased more than 30 articles, we asked some of the RIS editors to highlight the most well-written, innovative and popular pieces. Find out what they chose below.
Our journals position us at the forefront of the latest developments in International Studies, and RIS publishes the very best original research in International Relations.
Martin Coward, Lead editor (University of Manchester)
NATO's strategic narratives: Angelina Jolie and the alliance's celebrity and visual turn - Katharine A M Wright and Annika Bergman Rosamond
Volume 47 , Issue 4 , October 2021 , pp. 443 - 466
Martin said: "This article provides a fascinating look at NATO's foray into celebrity politics. The video looks at the way in which Angelina Jolie contributed to raising the profile of NATO's agenda on conflict-related sexual violence, but ultimately did not contest the militarist logics that underpin it."
Watch Wright and Roseman's short video summary then read the article in full at DOI: https://doi.org/10.1017/S0260210521000188
Richard Devetak (University of Queensland)
Nuclear weapons, extinction, and the Anthropocene: reappraising Jonathan Schell - Rens van Munster and Casper Sylvest
Volume 47 , Issue 3 , July 2021 , pp. 294 - 310
Richard said "This article gives a timely reminder of the protracted urgency of threats to planetary security. It offers striking reappraisal of Jonathan Schell's writings on nuclear weapons, ecological collapse, and extinction that forces us to rethink humanity's relation to the planet in the Anthropocene."
Watch Van Munster and Sylvest give a short interview about their article with BISA Director, Juliet Dryden. Then read the article in full at DOI: https://doi.org/10.1017/S0260210521000061
Carolina Moulin (Centre for Regional Development and Planning, UFMG, Brazil)
Navigating gender in elite bargains: Women's movements and the quest for inclusive peace in Colombia - Jacqui True and Alexandra Phelan
First View , pp. 1 - 24
Carolina said "The article gives a good review of debates on conflict resolution within the Women, Peace and Security agenda, provides original and rich empirical material on the Colombian peace negotiations and, most importantly, addresses the multiscalar and heterogeneous landscape of gender movements in contexts of protracted conflict. For the uninitiated on WPS' agendas, it's a great entry point. For those already in familiar terrain, the work advances on many critical points, including thinking seriously about the transversality of gender-based mobilisations."
Then you can read the article in full at DOI: https://doi.org/10.1017/S0260210521000334
Matthew Paterson (University of Manchester)
Topological twists in the Syrian conflict: Re-thinking space through bread - José Ciro Martínez
Volume 46 , Issue 1 , January 2020 , pp. 121 - 136
Matthew said: "This is just a really beautifully done piece of work that thinks about the intertwining of political authority and everyday life, via the centrality of bread to the later, and its deployment in political conflicts by the former."
This article also won the 2020 Review of International Studies Best Article Prize
Watch Martínez give a short interview covering the key points of his award-winning article below. Then read the article in full at DOI: https://doi.org/10.1017/S0260210519000330
Nisha Shah (University of Ottawa)
Military responses to COVID-19, emerging trends in global civil-military engagements - Fawzia Gibson-Fall
Volume 47 , Issue 2 , April 2021 , pp. 155 - 170
This timely article discusses increases in military engagements in health-related activities at the domestic level due to the COVID-19 pandemic. It covers the military as health actors, trends in COVID-19 military responses and their trajectories for the future.
Watch this handy five-minute summary recorded by Gibson-Fall, then find the full article at DOI: https://doi.org/10.1017/S0260210521000048
Keep an eye on our analysis pages as we continue to bring you summaries and interviews about all the best new RIS articles in 2021/22.