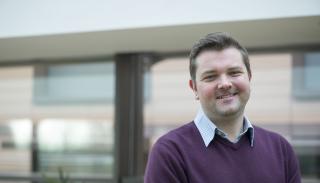 In discussion: Andrew Mumford
This article was published on
We recently announced the election of three new members of our Executive Committee. Over the next three weeks we'll bring you a short interview with each so that you can get to know them a little better. First up we have Professor Andrew Mumford from the University of Nottingham.
Tell us a bit about yourself and where you are from
I'm Andrew Mumford from the University of Nottingham. I live in Sheffield with my wife and two children (who would probably want me to tell you that we also have a black and white hamster called Rainbow…). I was born in North Yorkshire but grew up in Northamptonshire, not far away from Silverstone race circuit – which might explain my obsession with Formula One.
Why did you want to be a BISA trustee and what do you hope to achieve during your term?
It's nearly 20 years since I first joined BISA as a PhD student. Now, as a full professor, I wanted to serve as a trustee on the Executive Committee as a way of putting something back into an Association that has helped shape my own career. The annual conference and its flagship publications are a benchmark of quality in the work done in our fields. In recent years BISA has done great work in professionalising its operations and facilitating the activities of a wide array of working groups during an incredibly tough time. As a trustee I want to ensure a continuation of this agenda, whilst also helping BISA listen to its members about wider EDI issues, and to grow the work the association does in the area of facilitating knowledge exchange with policymakers. I see how important BISA is to my own PhD students, and I want to help the Postgraduate Network grow to support the development of the next generation of International Studies scholars. BISA is integral for facilitating networks of scholars researching a range of global challenges in the UK and beyond. I want to play my part in nurturing this work in the years ahead.
What is your area of research and how did you get into it? What are you currently working on?
I am interested in the political management of warfare. I started my undergraduate degree a few weeks after the 9/11 terrorist attacks and became fascinated with the political formulation of the 'War on Terror'. Last year I published a book on the management of the West's war against so-called Islamic State in Syria and Iraq. I'm currently working on a project that explores the changing nature of deterrence in the era of 'hybrid threats'. I've also got an article about Denis Healey, one of my political heroes, bubbling away in the background.
Can you tell us a bit about your career journey so far? Do you have any advice for colleagues just embarking on an academic career?
After my PhD (from Warwick in 2009) I spent two years on fixed-term contracts at different universities. I empathise with early-career colleagues experiencing similar levels of precarity. I tried to concentrate on turning my thesis into a book and presenting papers from my thesis at major conferences (including BISA) so that I could augment my CV ahead of securing a permanent contract – which I did at the University of Nottingham, where I still am over a decade later.
Is there anything else we should know about you?
I huff and puff my way through a weekly five-a-side game of football wearing a decade-old Sheffield United shirt that strangely seems to have shrunk over the years… Can be found relaxing with a military history book or a glass of single malt whisky. Or both.
Next week look out for our interview with Dr Geoffrey Swenson, Senior Lecturer in International Politics at City, University of London. This will be published on Monday 15 August.