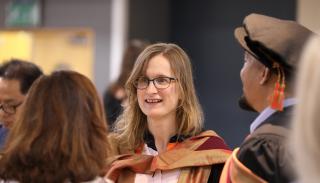 In discussion: Juanita Elias
This article was published on
We recently announced the election of the new members of our Executive Committee. We hope this interview series, one with each new trustee, will help you get to know them a little better.  This week it's the turn of Juanita Elias, our new vice-chair, based at the University of Warwick.
Tell us a bit about yourself and where you are from
I am a Professor of International Political Economy at the University of Warwick. I'm from Coventry and so having a position at Warwick means that I can live and work in my hometown. I've also worked in Australia – initially at the University of Adelaide where I took up a post in 2005 and later at the Griffith Asia Institute, Griffith University, in Brisbane where I held an Australian Research Council Future Fellowship between 2010 and 2013.
Why did you want to be a BISA trustee and what do you hope to achieve during your term?
I've always felt that it is important to support the work of BISA. As a PhD student and an early-career scholar, I attended BISA conferences as well as workshops put on by both the International Political Economy Working Group (IPEG) and the Gendering International Relations Working Group. I always found the working groups to be exceptionally supportive, helping me to build life-long research networks and friendships. Serving as a working group convener for IPEG has been exceptionally rewarding - especially during the pandemic when the IPEG team worked to put on a series on online events aimed at supporting IPE scholars at all career stages. Following on from this experience, I was keen to get involved with BISA in other ways. During my term as Vice Chair I'm looking to support BISA on a range of different initiatives including EDI, supporting working groups and early-career researchers, taking forward BISA's agendas around internationalisation and defending the social sciences and much more!
What is your area of research and how did you get into it? What are you currently working on?
I work broadly in the area of feminist International Political Economy, and much of my recent work takes a social reproduction lens; that is, it points to how and why we need to rethink IPE in ways that better incorporate the various forms of un and underpaid work that are vital to the reproduction of life itself. My work with Shirin Rai for example, published in the Review of International Studies suggested that understandings of the 'everyday' in IR and IPE need to be better connected to social reproduction scholarship. Most recently I have been working on a paper that builds upon this work to offer a feminist take on the IPE of global crisis. Much of my work is empirically driven and I have a longstanding research interest in the Southeast Asian region – especially Malaysia and Indonesia. This is a region that I've been conducting research in since the late 1990s, when I undertook my PhD research in Malaysia looking at the construction of low paid factory labour in global garment supply chains.
My research in Southeast Asia has included a book length study of gender and economic policy-making in Malaysia, research into gendered modes of urban dispossession in Jakarta, and explorations of pro-domestic worker activism in the region. Since relocating to the UK in 2013, I've also been involved in a number of projects that have looked at the gendered political economy of care under conditions of austerity in the UK.
Can you tell us a bit about your career journey so far? Do you have any advice for colleagues just embarking on an academic career?
I completed my PhD in 2002 at the University of Warwick. Like many academics, I spent several years post-PhD in temporary research and teaching contracts before landing my first permanent job at the University of Adelaide. Moving to the other side of the world was never part of my career plan, but I benefitted hugely from working with academics who shared my research interests – in both gender studies and the Southeast Asian region. During my time in Australia, I also played a role in initiating what is now called the Australian IPE network (AIPEN) which provided a much-needed network for academics working in IPE across a very large continent. Academic careers are full of uncertainty - more so now than ever before – so my advice is simply to surround yourself with supportive colleagues and work to build the networks that will sustain long-term collaborations and friendships.
Next week look out for our interview with Simon Rushton. This will be published on Monday 21 August.