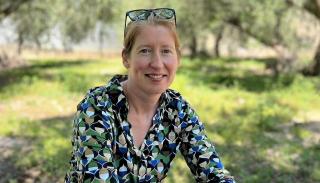 In discussion: Una McGahern
This article was published on
We recently announced the election of new members of our Executive Committee. We hope this interview series, one with each new trustee, will help you get to know them a little better.  This week it's the turn of Una McGahern who is based at Newcastle University.
Tell us a bit about yourself and where you are from
Hi! I'm a Senior Lecturer in Politics at Newcastle University. Broadly speaking, my research focuses on Israel-Palestine while my teaching spans the wider Middle East and North Africa region. I'm from Ireland (county Longford) originally but having completed my MA and PhD studies and part of my postdoc fellowship at Durham University, I've been living in the north-east for over 18 years (my Irish accent remains intact!) A lapsed runner, my new favourite thing to do is to enjoy long walks in the beautiful Northumberland countryside as often as I can.  
Why did you want to be a BISA trustee and what do you hope to achieve during your term?
Since the start of my academic career as an early career scholar, I have regularly attended BISA workshops and have noticed, and appreciated, the great work of BISA in making our annual conferences and working groups more open and inclusive to different academic backgrounds and (inter-)disciplinary contributions. As a trustee, I am keen to build on this work in developing the growing interdisciplinary strengths of our research conversations and activities while increasing the visibility and representation of scholars from underrepresented regions in those conversations as well as in our awards and prize-giving schemes. Aware of the restrictions that many of our members experience in getting to the UK, I'm also keen to expand and diversify the ways in which we share and celebrate excellence across our broad research and teaching practices more generally.   
What is your area of research and how did you get into it? What are you currently working on?
I have been researching issues relating to mobility, security and space in Israel-Palestine since my first visit to the region over 20 years ago. While my research remains empirically grounded in Israel-Palestine, my disciplinary lens regularly moves and shifts to better understand particular cases that I'm interested in, whether that is by combining securitization theory with anthropological scholarship on margins to investigate the politics of rumours and histories of violence in the Galilee, fusing social movement theory with urban studies to investigate the spatial dynamics of protest at a particular crossroads in the Wadi Ara region, or by merging scholarship on everyday mobilities with work on the right to the city to investigate everyday politics of space-making on the run in Jerusalem. More recently, I have been examining cross-border student mobilities and cross-border university cities in Palestine and the ways in which these spaces and practices reveal patterns of repression and resistance in action.     
Can you tell us a bit about your career journey so far? Do you have any advice for colleagues just embarking on an academic career?
I completed my PhD in 2010 and while I was lucky enough to be awarded a Leverhulme Early Career Fellowship a year later, I found myself, like many of my colleagues, being tasked with a lot of teaching and, soon thereafter, a lot of administrative duties. My first piece of advice to colleagues embarking on an academic career is to embrace the immediate and long-term benefits of both but to not be shy in negotiating adjustments (or requesting support) if you need it. My second piece of advice is to stay focused on your own research and to avoid the lure of 'hot' topics or of re-orienting your research plans to follow new academic trends unless they directly align with what you are currently doing. My third and final piece of advice is to enjoy the social networking (with an emphasis on the social component) of conferences but to not overcommit or overstretch yourself academically or physically. Look after yourselves, believe in yourself, and surround yourselves with supportive colleagues!
Next week look out for our interview with Lee Jarvis (University of East Anglia). This will be published on Monday 4 September.