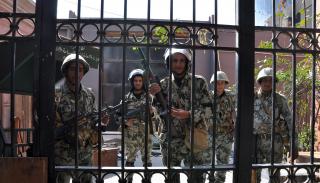 EJIS conversations - Decolonising war
This article was published on
In the latest EJIS conversation, BISA Director, Juliet Dryden, talks to Tarak Barkawi about his European Journal of International Security (EJIS) article 'Decolonising War'. The article has been consistently popular amongst the IR community since its publication in 2016, and was the most downloaded EJIS article in 2021.
Juliet talks to Tarak about his academic journey, and how his interest in Global South politics developed. Tarak also gives a summary of the main threads of the article, gives an overview of the terms 'decolonial' and 'postcolonial', and discusses how the article can be contextualised to the current war in Ukraine.
Want to know more? Read Tarak's full article at https://doi.org/10.1017/eis.2016.7
This particular article is open access, but BISA members receive access to EJIS (and our other journal Review of International Studies) as a benefit of membership. To gain access log in to your BISA account and scroll down to the 'Membership benefits' section. If you're not yet a member join today.
Full abstract
What would it mean to decolonise the concept of war? 'Decolonising' means critiquing the ways in which Eurocentric ideas and historiographies have informed the basic categories of social and political thought. Dominant understandings of the concept of war derive from histories and sociologies of nation-state formation in the West. Accordingly, I critique this Eurocentric concept of war from the perspective of Small War in the colonies, that is, from the perspective of different histories and geographies of war and society than were assumed to exist in the West. I do so in order to outline a postcolonial concept of war and to identify some of the principles of inquiry that would inform a postcolonial war studies. These include conceiving force as an ordinary dimension of politics; situating force and war in transnational context, amid international hierarchies; and attending to the co-constitutive character of war and society relations in world politics.