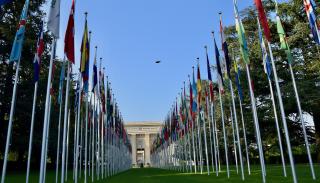 EJIS conversations - The evolution of the international peace architecture
This article was published on
In the latest EJIS conversation, European Journal of International Security (EJIS) editor Edward Newman (University of Leeds) talks to Oliver Richmond about his EJIS article - 'The evolution of the international peace architecture' - and his research on peacebuilding'. Oliver also talks about the future of peacebuilding, and whether we could achieve coherence amongst different actors.
The international peace architecture is upheld by a series of theories and doctrines related to peace and conflict, with ideas often reiterated by organisations and regional actors such as the UN and EU. However, this raises many questions about the evolution of such a global endeavour, questions which Oliver's article seeks to explore. 
Want to know more? Read Oliver's full article at: https://doi.org/10.1017/eis.2021.12
This particular article is open access, but BISA members receive access to EJIS (and our other journal Review of International Studies) as a benefit of membership. To gain access log in to your BISA account and scroll down to the 'Membership benefits' section. If you're not yet a member join today.
Further reading
International Relations Then and Now: Origins and Trends in Interpretation - AJR Groom, Andre Barrinha, William C Olson, 2nd edition, 2019, Routledge

Power and the Pursuit of Peace: Theory and Practice in the History of Relations Between States - F. H. Hinsley, 1967, Cambridge University Press

The Functional Theory of Politics - David Mitrany, 1976, St. Martin's Press

World Society - John W Burton, 1972, Cambridge University Press
Full Abstract
The theories and doctrines related to peacekeeping, mediation, peacebuilding, and statebuilding, as well as other tools used to end war and conflict, raise a range of long-standing questions about the evolution and integrity of what might be called an international peace architecture. A narrow version of this term has begun to appear in the context of peacebuilding through the United Nations, the African Union, the European Union, other regional actors, the international legal system, and the International Financial Institutions. This article proposes a much broader, historical version, with six main theoretical stages, which have, from a critical perspective, produced a substantial, though fragile, international architecture.