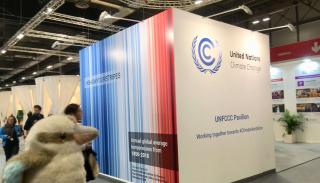 Expectations for COP26 - Matthew Peterson and Caroline Kuzemko
This article was published on
With just a few days to go until COP26 begins, Matthew Paterson, one of the editors of BISA journal Review of International Studies (RIS), spoke to Caroline Kuzemko (University of Warwick) about expectations for the latest COP. Caroline is an Associate Professor in the University of Warwick's Politics and International Studies department. She is Deputy Leader the research theme 'Energy in a Global Context', and PI of the 'Beyond Brexit: UK Zero Carbon Energy Policy' project.
In this interview Mat and Caroline discuss what might happen at the upcoming COP. Should the UK display humility going in, or celebrate the 42% decrease in emissions? Should we get caught up in COP mania or just forget it? And why is it that states choose low carbon policies?
Mat also asks Caroline about her RIS article 'Climate change benchmarking: Constructing a sustainable future?'. Is the use of benchmarking expanding? Are state actors privileging some things over others? And, what exactly does politics mean when it comes to climate change?
Further reading
RIS has a special collection on COP26, and all articles are free to access until the end of 2021. The articles are:
If you're a BISA member you can receive access to all content from RIS (and to our other journal European Journal of International Security) as a benefit of membership. To gain access, log in to your BISA account and scroll down to the 'Membership benefits' section. If you're not yet a member join today.