Article
'The West and the Rest: Challenging the Emotions Research Agenda' - workshop review
This article was written by
Clara Eroukhmanoff, Co-Convenor of the Emtions in Politics and IR Working Group, and Chrissie Elliot-Duxson, BISA Communications Manager
This article was published on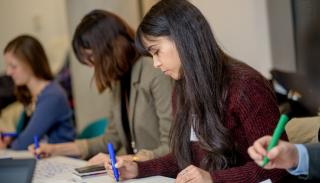 On Monday 9 December our Emotions in Politics and IR working group held a workshop at London Southbank University: 'The West and the Rest: Challenging the Emotions Research Agenda'.
There were three panels over the course of the day:
Emotions and Protest in non-Western contexts
Emotions in post-colonial relations
Decolonising emotions and emotional experience
All the papers were of a very high standard and the presenters each had the opportunity for feedback from the working group convenors. The first session was entitled 'emotions and protests in non-Western contexts'. This drew examples from the recent Hong Kong protests and the idea of localism, as well as examining the emotional antecedents of trust in the ASEAN community and the emotional repertoires of the Arab Spring. The second session explored the role of emotions in post-colonial relations. It sought to decolonise emotional knowledge and experience in traditionally white spaces such as the Imperial War Museums and IR theory, and by working with the idea of being emotionally 'out of sync' during fieldwork. 
There was also time set aside for questions on each panel, and a good discussion was had about interviewing research participants where the subject is highly emotive. The advice given for successful interviewing centred around being able to feel empathy with the participant. The interviewer's use of language is also key.
To finish the day a long table etiquette session (developed by Lois Weaver) was held. The format is designed to be non-hierarchical and seeks to foster an active and participatory dialogue about a particular issue rather than a more passive reception of presentations about individual research. Delegates had considered three questions in preparation for this session:
To what extent have emotions studies included a variety of perspectives and empirical cases beyond the West?
How do emotions intersect with race, sexuality and gender?
How can decolonialism/postcolonialism inform the study and research of emotions in IR?
One of the first observations was that we cannot take the 'non-West' as ontologically real or existing, and that as a result we should continually challenge the binary between 'West' and 'non-West'. Second, whilst we recognised that there was a positive increase of research exploring the role of emotions in contexts other than the Global North in International Relations, we also acknowledged that to a great extent, this research still uses either positivist methodologies or white Euro-centric forms of knowledge and concepts. As a result, this has not resulted in really questioning the emotions research agenda. We thus concluded that if emotions scholars seek to integrate postcolonial/decolonial perspectives, more work needs to be done in resisting 'scientific' and 'rational' modes of knowing and being, de-centering Western emotions research and knowledge, challenging our own positionality and, importantly, including philosophies and concepts indigenous to the contexts under the microscope.