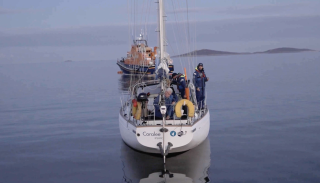 International studies on the ground, on canvas, on a boat: Veterans' stories in transition
This article was written by
Nick Caddick (Anglia Ruskin University)
This article was published on
Dr Nick Caddick introduces the 'Stories in Transition' project. The project looks at how, why, and to what effect charities are using arts, culture and sport in their efforts to support veterans in their 'transition' from the military to life as a 'civilian'. Read on to find out about the approach, the partners involved, and how you can follow the outputs.
At the helm of a small yacht stands a young man named Adam (not his real name). Head held high, he looks calm but focused, his eyes gazing out toward the horizon and the ocean air filling his lungs. Hands rest gently on the helm as he feathers the steering to move the boat around the British coastal waters. Today is rather different from Adam's life in recent times. Three months previously, he was medically discharged from the Royal Navy, a career he adored and took pride in being a valued member of a team with a clear sense of purpose. Being discharged meant being cut off from the bonds of meaning, friendship and value that life in the Navy had given him. This was not what Adam wanted. After being inspired by his Grandad's stories of service in the Merchant Navy, Adam felt called to serve and wanted to continue. He now suffers from the "Black Dog", as he put it to us, and anxiety. As I watch him telling his story, recorded as part of a three-week voyage from Land's End up the British coastline towards John O'Groats, I can't help wondering – what will he do next?
The 'Stories in Transition' project engages with exactly this kind of question. What actually happens during the process often glibly referred to as 'transition' from the military to life as a 'civilian'? How do veterans re-establish meaning, community, and opportunity in life after military service? How does it feel to live as part of an institution that prizes communal solidarity, saturated with ideals about belonging and collective purpose, and then, often suddenly, to not? Such questions have an under-appreciated significance for international studies. Whether or not they deployed overseas, veterans have all at one time in their lives committed themselves to service of the state and been prepared to enact foreign policy – sometimes violently – on its behalf. Sometimes these acts of preparation or of violence hold consequences that unfold for the duration of a lifetime. Always, it seems, there is some degree of adaptation required to shift one's personal and social being from 'military' to 'civilian'.  
Stories in Transition is funded by the Arts and Humanities Research Council and is a two-year collaboration between universities and military charities. We aim to understand how, why, and to what effect charities are using arts, culture and sport in their efforts to support veterans in 'civvy street'. The work involves a detailed case study of three charity partners: Turn to Starboard, a sailing charity for veterans based in Falmouth; Veterans in Communities, a community hub and outreach organisation who use arts alongside other activities to integrate veterans and their local community (Rossendale), and; Waterloo Uncovered, who support veterans through battlefield archaeology at the Waterloo battlefield in Belgium, alongside a range of online support programmes. The academic partners include Anglia Ruskin University, University of Exeter, Manchester Metropolitan University, and University of the Arts, London. Our primary interest is the stories of the veterans involved in our three partner charities – what story do they wish to tell about their lives post-service, and how do they want to represent their experiences, on their own terms?
Key to our approach is co-produced film as a way of "seeing" veterans' lives differently. Research with veterans, as with media portrayals and government discourse, has rarely been co-produced. One outcome of this is that harmful stereotypes – the veteran as 'hero', 'victim', and occasionally, 'villain' – are easily perpetuated in popular culture. Such stereotypes always seem to precede the individual veteran and his or her story. Most veterans hate them. They act as a filter through which veterans' stories are listened to and engaged with. Co-produced film offers the potential for removing the filter, or changing the lens. To paraphrase from Sophie Harman's wonderful book Seeing Politics, film is a source and site of (veterans') agency. It helps to reveal the politics of their post-military lives, from their struggle to gain institutional recognition – in various forms – for their service, to their yearning for community in a world that seems apathetic, hostile, or alien. Working in front of and behind the cameras, veterans can speak their truths – to power, when necessary. They can make decisions over how they want their identities and experiences to be represented and they can choose which audiences they want to address.
"Harmful stereotypes – the veteran as 'hero', 'victim', and occasionally, 'villain' – are easily perpetuated in popular culture. Such stereotypes always seem to precede the individual veteran and his or her story. Most veterans hate them."
The project will produce three films based on the stories of veterans associated with each of our three partner charities. The films will show how veterans engage in sailing, art, and archaeology as practices, what these practices 'do', how veterans situate them in the context of their broader transition journey, and how they can provide a basis for re-establishing bonds of community, belonging and trust which for many people, and for different reasons, have been broken at some point during their trajectory into civilian life. The films put veterans' voices at the centre. Not only that, they invite the veterans to shape how these voices are orchestrated and portrayed through the communicative technologies of film. This in itself is politically important in an arena where veterans' voices are often taken up by others for cultural and political reasons.   
Alongside the films, the project involves an organisational case study of our three partner charities. We want to know what organisational practices are involved in creating environments and activities to support veterans. How and why do our partner charities do what they do? What is the governing and operational ethos? What are the tacit or implicit norms that guide social interaction in these spaces? Our partners are small charities (albeit with varying turnover) with small teams of close-knit staff who are directly involved in providing support to their beneficiaries. They differ in purpose and in process to the larger military charities, many of which have become household names in the UK following the wars in Iraq and Afghanistan. Despite the official requirements for charities to be 'apolitical', the military charity sector has an internal politics of its own as well as a broader political relationship with the state, the public, and British political culture. As our own intervention into this contested space, we want to draw the focus back on to what works (or, indeed, doesn't work) to support veterans reaching out for help.  
Our first and foremost ethical commitment in this research is to the veterans whose stories we are telling and with whom we are telling them. Beyond this, the ethics of co-production present many challenges to deal with along the way. There is a politics of trust, authenticity and reciprocity that shapes the co-production process, but is never straightforward (Harman 2019). Developing these relationships takes time, and often requires more time than research funders will pay for, universities will commit to, and partner organisations themselves can eek out of busy schedules. It also involves considerable elements of risk. For example, transition can involve coming to terms with a cultural legacy that includes hyper/toxic masculinity. There are risks associated with this for charities and for researchers, most notably in creating safe and inclusive spaces capable of incorporating diverse veteran as well as civilian participants. Furthermore, the emphasis on negotiating consent – always an ongoing process – is heightened in film because the veterans are so easily identifiable when telling their stories. If veterans change their mind about appearing on screen, they need to be taken out of the edit, which becomes increasingly difficult the further into the editing process we get.  
Eighteen months into the project, our focus now is on collecting the final interviews, editing the three films, completing our observations of organisation practice, and writing up the case studies and reports which accompany the film outputs. Stories in Transition is committed to making an impact and we hope it will be transformative for how 'transition' is understood in military and civilian communities alike, and in the policy sphere which exists to govern veterans' transition. That said, we recognise the potential for impact to flourish 'from the ground up', in that small charities established by and for veterans – and using a diverse range of approaches and activities to bring people in – will benefit from the stories and resources we collectively produce. Stories in Transition reveals the values and relationships that veterans hold dear and recognises the power of narrative to put these things at the centre of discussions around veterans' post-military lives. In particular, the project reinforces the deeply political responsibility to engage with veterans in more informed and ethical ways, without dismissing them as militarised subjects, celebrating them as heroes, or conveniently ignoring their service and its consequences.   
You can follow the project, including updates on film releases and other output, via the project's Twitter account @Veterans_SiT and through the recently launched website www.storiesintransition.com.
Author
Article by principal investigator of the Stories in Transition project, Dr Nick Caddick. Nick is Associate Professor of Political Sociology at the Veterans and Families Institute, Anglia Ruskin University, and a trustee of BISA.