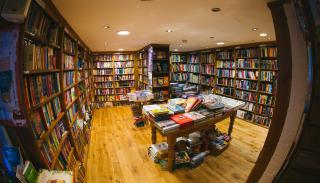 The latest in IR - autumn book round up
This article was published on
Welcome to our quarterly book round up. Each quarter we bring you updates on the latest International Studies releases by BISA members. To be included in the next update contact Communications Manager, Chrissie Duxson: Chrissie.Duxson@bisa.ac.uk
Original Sin
Power, Technology and War in Outer Space
Bleddyn E Bowen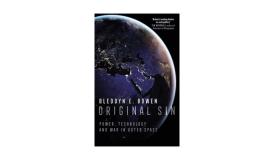 Bleddyn Bowen is Associate Professor of International Relations at University of Leicester. He is also a founding convener of the BISA Astropolitics Working Group.
Blurb
Space technology was developed to enhance the killing power of the state. The Moon landings and the launch of the Space Shuttle were mere sideshows, drawing public attention away from the real goal: military and economic control of space as a source of power on Earth.
Today, as Bleddyn E Bowen vividly recounts, thousands of satellites work silently in the background to provide essential military, intelligence and economic capabilities. No major power can do without them. Beyond Washington, Moscow and Beijing, truly global technologies have evolved, from the ground floor of the nuclear missile revolution to today's orbital battlefield, shaping the wars to come. World powers including India, Japan and Europe are fully realising the strategic benefits of commanding Earth's 'cosmic coastline', as a stage for war, development and prestige.
Yet, as new contenders spend more and more on outer space, there is scope for cautious optimism about the future of the Space Age—if we can recognise, rather than hide, its original sin.
Find out more and purchase the book via the Hurst website.
A Critical History of Poverty Finance
Colonial Roots and Neoliberal Failures
Nick Bernards is Associate Professor of Global Sustainable Development at the University of Warwick.
Blurb
Finance, mobile and digital technologies - or 'fintech' - are being heralded in the world of development by the likes of the IMF and World Bank as a silver bullet in the fight against poverty. But should we believe the hype?
A Critical History of Poverty Finance demonstrates how newfangled 'digital financial inclusion' efforts suffer from the same essential flaws as earlier iterations of neoliberal 'financial inclusion'. Relying on artificially created markets that simply aren't there among the world's most disadvantaged economic actors, they also reinforce existing patterns of inequality and uneven development, many of which date back to the colonial era.
Bernards offers an astute analysis of the current fintech fad, contextualised through a detailed colonial history of development finance, that ultimately reveals the neoliberal vision of poverty alleviation for the pipe dream it is.
Find out more and purchase the book via the Pluto website. There is also an open access link.
Contending Orders
Legal Pluralism and the Rule of Law
by Geoffrey Swenson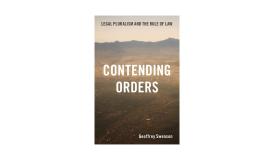 Geoffrey Swenson is a Senior Lecturer in International Politics at City, University of London. He is also a BISA trustee.
In most countries, it is the norm for state courts to operate alongside powerful non-state justice systems, whose roots lie in custom, religion, or tradition. Indeed, non-state justice is frequently the dominant form of legal order. In the developing world, an estimated 80 to 90 percent of disputes are handled outside the state justice system, and nearly all post-conflict states feature extensive legal pluralism because of the weak institutions and contested authority endemic to conflict and post-conflict states. Yet the role of legal pluralism is frequently misunderstood and when different justice systems clash, prolonged, potentially even violent conflict, can result.
In Contending Orders, Geoffrey Swenson proposes a new way to understand how state and non-state authorities interact by exploring the full range of legally pluralist environments-combative, competitive, cooperative, and complementary. Drawing upon insights from Afghanistan and Timor-Leste, two countries with extensive legal pluralism, he identifies and critically examines commonly used strategies in legally pluralistic environments. Swenson also illustrates how national and international actors can better engage non-state justice systems. Further, Swenson shows how multiple justice systems can not only co-exist but work together to contribute to the development of a democratic state bound by the rule of law.
It is not enough to merely recognize that legal pluralism exists; scholars and policymakers must understand how legal pluralism actually functions. Contending Orders both analyzes the forces that are shaping the relationship between the state and non-state justice worldwide and offers policy strategies to promote the rule of law and good governance wherever legal pluralism thrives.
You can purchase the book via the Oxford University Press website. You can also obtain a 30% discount using the code: ASFLYQ6.
NATO 2030
Towards a New Strategic Concept and Beyond
Jason Blessing, Katherine Kjellström Elgin, Nele Marianne Ewers-Peters (Editors), Rakel Tiderman (Associate Editor)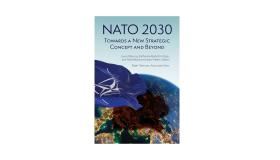 Editor Nele Marianne Ewers-Peters is a Lecturer and Researcher at Helmut-Schmidt-University/University of the Federal Armed Forces, Hamburg. She is also a convener of the BISA European Security Working Group.
Blurb
The North Atlantic Treaty Organization (NATO) is the world's largest, most powerful military alliance. The Alliance has navigated and survived the Cold War, the collapse of the Soviet Union, and the post-9/11 era. Since the release of the 2010 Strategic Concept, NATO's strategic environment has again undergone significant change. The need to adapt is clear. An opportunity to assess the Alliance's achievements and future goals has now emerged with the Secretary General's drive to create a new Strategic Concept for the next decade – an initiative dubbed "NATO 2030." A necessary step for formulating a new strategic outlook will thus be understanding the future that faces NATO. To remain relevant and adjust to new circumstances, the Alliance must identify its main challenges and opportunities in the next ten years and beyond. 
Sponsored by the Henry A. Kissinger Center for Global Affairs and the Foreign Policy Institute at the Johns Hopkins University School of Advanced International Studies (SAIS), with the generous support of the Deutsche Akademischer Austauschdienst (DAAD) / German Academic Exchange Service, this book contributes to critical conversations on NATO's future vitality by examining the Alliance's most salient issues and by offering recommendations to ensure its effectiveness moving forward. Written by a diverse, multigenerational group of policymakers and academics from across Europe and the United States, this book provides new insights about NATO's changing threat landscape, its shifting internal dynamics, and the evolution of warfare. The volume's authors tackle a wide range of issues, including the challenges of Russia and China, democratic backsliding, burden sharing, the extension of warfare to space and cyberspace, partnerships, and public opinion. With rigorous assessments of NATO's challenges and opportunities, each chapter provides concrete recommendations for the Alliance to chart a path for the future. As such, this book is an indispensable resource for NATO's strategic planners and security and defense experts more broadly.
Find out more and read an online copy of the book via the Henry A Kissinger Center for Global Affairs
Counterterrorism Strategies in Egypt
Permanent Exceptions in the War on Terror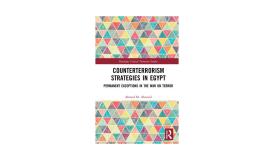 Ahmed M Abozaid is a researcher at the Handa Centre for the Study of Terrorism and Political Violence, University of St Andrews, UK, and a Fellow at The Program on Exiting Violence, Columbia Global Centers. Ahmed recently spoke about this book at the BISA Critical Studies on Terrorism Working Group annual conference.
Blurb
This book reveals how counterterrorism discourses and practices became the main tool of a systematic violation of human rights in Egypt after the Arab Uprising.
It examines how the civic and democratic uprising in Egypt turned into robust authoritarianism under the pretence of counterterrorism and the 'war on terror'. By interrogating Egypt's counterterrorism legislation, the book identifies a correlation between counterterrorism narratives and the systemic violation of human rights. It examines the construction of a national security state that has little tolerance for dissent, political debate or the questioning of official policy, and how the anti-terrorism measures undertaken are actually anti-democracy strategies. The book also traces 150 years of Egyptian counterterrorism and counterinsurgency discourse, and analyses how this links with these practices of human rights assaults. By investigating how this discourse constructs and reproduces knowledge and meaning about terrorism and counterterrorism practices in Egypt, the book highlights how the government legitimises these violations against the population in the interests of the ruling elite.
This book will be of much interest to students of terrorism studies, critical terrorism studies, discourse theory, Middle Eastern politics, decoloniality, and International Relations.
You can purchase the book via the Routledge website.
The European Union as a Global Counter-Terrorism Actor
European Security and Justice Critiques series
By Christian Kaunert, Alex MacKenzie and Sarah Léonard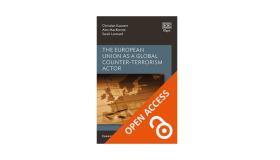 Sarah Léonard is Professor of International Security at University of the West of England. Christian Kaunert is Professor - Policing and Security at University of South Wales. He is also a convener of the BISA International Politics of Migration, Refugees and Diaspora Working Group.
Blurb
After the death of Osama Bin Laden and the demise of Al Qaeda, the EU is increasingly threatened by new jihadi terrorist groups such as ISIS, as exemplified by recent terror attacks on Paris, Brussels, Nice, Berlin and Manchester. This book investigates the role of the EU in dealing with such groups as part of its counter-terrorism efforts, by outlining the increasing role of the EU as an external counter-terrorism actor.
This significant book provides a comprehensive analysis of the global dimension of European Union (EU) counter-terrorism. It focuses on the growth of the EU as a global counter-terrorism actor, from it having almost no role in 2001 to becoming a significantly greater force in recent years.
Analysing one of the most important policy areas of European integration, authors Christian Kaunert, Alex MacKenzie and Sarah Léonard consider the key question of why the EU may have become a global actor in counter-terrorism. The authors then develop a unique theoretical approach in the form of actorness and collective securitization, which analyses the EU's evolution as a counter-terrorism actor in different case studies, such as counter-terrorism in the transatlantic relationship, North Africa, the Middle East and South Asia. Overall, this book highlights that the EU is, in fact, becoming a counter-terrorism actor of growing importance and with an ever-diversifying number of policy options available.
You can purchase the book via the Edward Elgar Publishing website. It is also available to read online open access via the same link.
If you're a BISA member and you'd like your book included in next quarter's round up, email Communications Manager, Chrissie Duxson: Chrissie.Duxson@bisa.ac.uk. Please include the title, blurb and a link to where the book can be purchased. If you are able, you can also include details of any discount available, but of course this is not required. The book should have been published a maximum of six months prior to your email.
Top photo by Phil Hearing on Unsplash