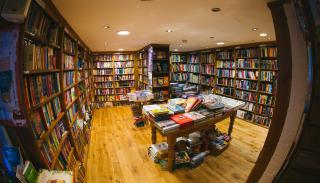 The latest in IR - summer book round up
This article was published on
Welcome to our quarterly book round up. Each quarter we bring you updates on the latest International Studies releases by BISA members. To be included in the next update contact Communications Manager, Chrissie Duxson: Chrissie.Duxson@bisa.ac.uk
An Ontological Rethinking of Identity in International Studies
Yong-Soo Eun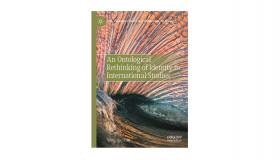 Yong-Soo Eun, PhD, is Professor of Political Science and International Studies at Hanyang University, Seoul, South Korea and the Editor-in-Chief of the Routledge series, IR Theory and Practice in Asia. Yong-Soo received his PhD from the University of Warwick, UK. He is interested in IR theory, postcolonialism and decolonial thinking, Global IR, identity studies, and an ontology of immanence.
Blurb
This book shows that identity studies in the discipline of International Relations (IR) generally cohere around two discrete understandings of being, substantialism and correlationism, and that their analytical, theoretical, and epistemological orientations are split along those lines. This binary opposition makes it difficult for identity scholarship to meet the internal validity standard of coherence while unnecessarily narrowing the theoretical lenses of constructivism in IR. The author argues that the best way to step outside that binary is to re-ground identity in ontology of immanence. The book shows that immanent ontological thinking enables us to have a pluralist epistemology and methodology for the study of identity, including both positivist and interpretivist orientations, without yielding a logically inconsistent alignment.
Find out more and purchase the book via the Springer website.
Humanitarian and Military Intervention in Libya and Syria
Parliamentary Debate and Policy Failure
Aran M Lewis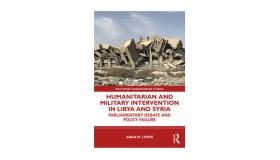 Aran is a BISA and PGN member. This book is based on his PhD research in the School of Law and Social Sciences at London South Bank University. The book is dedicated to his late wife Pauline, a children's librarian and artist, and his late sister Jesmond who was an admissions tutor and senior lecturer in digital arts at Greenwich University.
Blurb
This book explores the contradictions in Britain's humanitarian and military intervention in Libya and Syria, beginning with the Arab spring in 2010.
The book assesses the contradictions between the expressed humanitarian intentions of British military interveners and the impact of their actions on the putative beneficiary states. It demonstrates that, as a result of foreign intervention, both Libya and Syria were rendered non-functional as unitary nations and suffered extensive harm to their people and infrastructure. To evaluate the effectiveness and credibility of humanitarian warfare, the author conducts a thematic analysis of debates on Libya and Syria in the House of Commons. The book provides a detailed study of intentions and motives expressed by Members of Parliament, of consequent British state actions and their outcomes, and of MPs' reactions to outcomes. It provides ample evidence of duplicity, insincerity, indifference to harm, and ulterior motives for violence that undermine moral claims and support the argument that, although humanitarian warfare may be possible, the leading Western activist states (Britain, France, and the USA) are poorly qualified to carry it out.
Find out more and purchase the book via the Routledge website.
Understanding Territorial Withdrawal
Israeli Occupations and Exits
Rob Geist Pinfold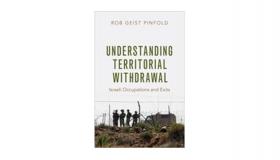 Rob Geist Pinfold is a Research Fellow at the Peace Research Center Prague and a Lecturer in International Peace and Security at Durham University's School of Government and International Affairs. He is also a Research Fellow at the Centre for Grand Strategy at King's College London and a Senior Fellow at the Herzl Center for Israel Studies at Charles University in Prague. Rob holds a PhD in War Studies from King's College London. He is a scholar of international security whose research intersects the study of strategy and territorial conflict. A British-Israeli, he divides his time between the UK and Israel.
Blurb
In Understanding Territorial Withdrawal, Rob Geist Pinfold focuses on what causes occupying states to either abandon occupation or further entrench themselves. The book looks primarily at Israel and constructs a generalizable framework for understanding territorial withdrawal. The book then applies this framework to the episodes he examines: Israel's withdrawal from the Sinai Peninsula between 1974-1982; its "unilateral" withdrawal from southern Lebanon in 2000; and its "unilateral disengagement" from the Gaza Strip in 2005. A powerful analysis of a central concern for the studies of international security, territorial conflict, and the Arab-Israel conflict alike, this book provides a critical intervention to show why occupying powers sometimes stay, and why they sometimes leave.
Find out more and purchase the book from the OUP website. Use promotion code ASFLYQ6 for 30% off.
9/11 Twenty Years On
Critical Perspectives
Edited by Leonie B. Jackson, Lee Jarvis, Harmonie Toros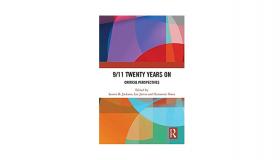 Lee Jarvis is a BISA trustee and Professor of International Politics at the University of East Anglia, UK. Harmonie Toros is Reader in International Conflict Analysis at the University of Kent, UK, where she researches how humans engage with political violence.
Blurb
This book provides the first sustained critical engagement with the legacy of the 9/11 attacks twenty years on. Featuring a wide range of established and emerging voices in critical terrorism studies, the book explores the deeply political character of remembering and forgetting, and the racialised, gendered and other contexts within which this takes place. A lively and provocative conversation between feminist, postcolonial, post-structural, literary and critical perspectives, 9/11 Twenty Years On asks what 'the day that changed the world' means for critical terrorism studies today, and how we might choose to mark those events in the future.
It will be essential reading for upper-level students, researchers and academics in the fields of International Relations, Security Studies and Political Science in general, as well as anyone interested in critical approaches to terrorism, political violence, and memory. The chapters in this book were originally published as a special issue of Critical Studies on Terrorism.
Find out more and purchase the book via the Routledge website.
The Political Cartoons of Derso and Kelen
Years of Hope and Despair
Stefan Slater and David Macfadyen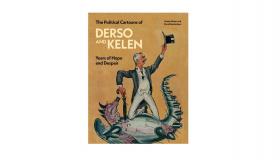 Following distinguished careers in medicine, Stefan Slater and David Macfadyen have pursued independent research around the inter-war period and the foundation of the League of Nations, which extended to the exploration of the careers of Alois Derso and Emery Kelen. Their research has been published in journals and presented at conferences.
Blurb
Alois Derso (1888-1964) and Emery Kelen (1896-1978) were remarkable cartoonists who became internationally renowned, particularly for their depictions in the 1920s of efforts to build a better world following the establishment of the League of Nations; of the rise of fascism in the thirties; and of the world cooperation through the United Nations that emerged in the forties. Their sequence of cartoons, imbued with humour, wit, gentle satire, artistry and vision, captures the Zeitgeist of a period of history that resonates today. Surprisingly, no comprehensive account of their work and lives has been published before.
 The authors analyse and discuss the extraordinary political insights revealed in the cartoons, which contribute to our understanding of those years. Drawing on original research, this overdue book delves into all aspects of Derso and Kelen's careers, including the unusual, if not unique, technical nature of their artistic collaboration and Kelen's additional gifts as a writer. It will inform the non-expert of the history of the time and the often overlooked role of cartoons as historical evidence. So memorable and informative are the images, it will also be a useful supplement to the literature on modern history, international relations and art.
Find out more and purchase the book via the Lund Humphries website.
Ascending Order
Rising Powers and the Politics of Status in International Institutions
Rohan Mukherjee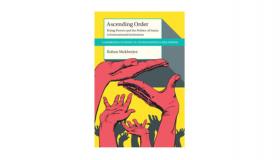 Rohan Mukherjee is Assistant Professor of International Relations at the London School of Economics and Political Science. He was previously Assistant Professor at Yale-NUS College, Singapore. He is a former Stanton Nuclear Security Fellow at the MIT Security Studies Program and non-resident Fellow at the United Nations University in Tokyo.
Blurb
Why do rising powers sometimes challenge an international order that enables their growth, and at other times support an order that constrains them? Ascending Order offers the first comprehensive study of conflict and cooperation as new powers join the global arena. International institutions shape the choices of rising states as they pursue equal status with established powers. Open membership rules and fair decision-making procedures facilitate equality and cooperation, while exclusion and unfairness frequently produce conflict. Using original and robust archival evidence, the book examines these dynamics in three cases: the United States and the maritime laws of war in the mid-nineteenth century; Japan and naval arms control in the interwar period; and India and nuclear non-proliferation in the Cold War. This study shows that the future of contemporary international order depends on the ability of international institutions to address the status ambitions of rising powers such as China and India.
Find out more and purchase the book via the Cambridge University Press website. BISA members receive 40% off this BISA/CUP book series title using the code in your joining or renewal email.
If you're a BISA member and you'd like your book included in next quarter's round up, email Communications Manager, Chrissie Duxson: Chrissie.Duxson@bisa.ac.uk. Please include the title, blurb and a link to where the book can be purchased. If you are able, you can also include details of any discount available, but of course this is not required. The book should have been published a maximum of six months prior to your email.
Top photo by Phil Hearing on Unsplash