Article
In discussion: Joanna Wilson - Postgraduate Network Chair
This article was published on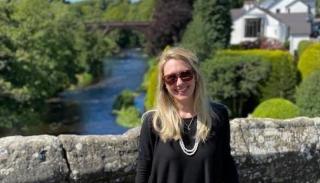 Postgraduate Network (PGN) Chair, Joanna Wilson, discusses her research, her plans for the PGN and their first event taking place on Tuesday 5 October. The event is free of charge for both members and non-members so that you can get to know the new committee members and find out what you could gain through engagement with the network.
Me
My name is Joanna Wilson, Chair of the BISA PGN, final year PhD student and Research & Teaching Associate with the Glasgow Centre for International Law and Security. I'm also a keen musician and play Cello in a number of local orchestras and at weddings.
My research
My Thesis, entitled AI, War and (In)Humanity: Ancient Freedoms v Modern Dangers seeks to investigate how, by removing, reducing and reconfiguring human activity on the battlefield, the use of AI in war raises serious questions regarding the future of warfighting, the future of the International Law relating to war and its ability to successfully and effectively regulate means of warfare.
The discussion considers whether the removal (or reduction) of humanity in the basic sense (as in, the human species, people, humankind) from the battlefield, risks the concurrent removal of humanity, in the philosophical, theoretical sense, from war and from the rules by which it is governed and/or prevented.
Within this, I explore the removal of 'humanity' (both practically and theoretically, as described above) from the processes and decisions through which wars are initiated, the ways in which they are fought and how conflict is regulated.
The reality of AI on the battlefield, is emphasised, considering how this might differ from the sci-fi-esque misconceptions borne of the fear and uncertainty surrounding the unknown capabilities of AI. Highlighting that many military uses of AI exist beyond lethal weapons, its actual opportunities, limitations and implications are explored.
Parallels are drawn between the concerns relating to AI on the battlefield and those that have, in the past, been associated with many forms new military technology, which have, largely, over time, come to be accepted into the moral and legal framework of permitted, or even justified, human behaviour. However, it is also demonstrated that a number of crucial differences set AI apart from what has gone before, thereby adding to its challenging nature, in terms of use, control and regulation.
So much of the international legal system accounts for what is already a worst-case scenario – a minimum standard of protection. We must therefore be critical, hold it accountable and ensure that it is fit for purpose, as once articulated by the former UK Attorney General, "to protect our most ancient freedoms from the most modern dangers."[1]
BISA PGN
I'm so excited for all that the year holds for the BISA PGN. The committee have met a few times already. They are an amazing bunch of people and have lots of brilliant ideas and plans to offer as many great experiences and opportunities to our PGR and ECR members as we can over the course of the 2021/22 academic year. For more info on our lovely committee members, you can read about them in our 'Meet the committee' news story. Our main focus for the year will be on career support and professional development, with events to cover practical areas such as:
teacher development;
job applications;
publishing;
opportunities outside academia;
social events offering pastoral support; and
promoting researcher wellbeing.
If you have an event or activity in mind for us to run, or seek support in running one of your own, please don't hesitate to contact us at: pgn.group@bisa.ac.uk. Or, come chat to us at…
#TouchBaseTuesday: let's chat about the BISA PGN
Our first event #TouchBaseTuesday: let's chat about the BISA PGN will take place next Tuesday 5 October at 4pm on Zoom. You'll need to register but it's free for both members and non-members. Visit the event page for more information.
The event will offer attendees the opportunity to meet the new PGN committee and have their say on what events and activities they would like to see from the PGN this year. It will also feature an online social, including a pop quiz on IR trivia!! It'll be a really fun, relaxed way to start off the term and we so hope to see you there, meet you and hear your ideas!
We also plan to hold an event on Academic Writing in the coming weeks, so keep an eye on your emails and the website for information – and don't forget to join the PGN if you haven't already (of course you first need to join BISA), and/or sign up to our mailing list to be sure you are kept up-to-date on all our news!
I wish you all a happy and successful start to the new term and look forward to meeting some of you on Tuesday!
[1] United Kingdom Attorney-General, the Right Honourable Jeremy Wright QC MP, (2017)