Article
EJIS conversations - Publishing with EJIS
This article was published on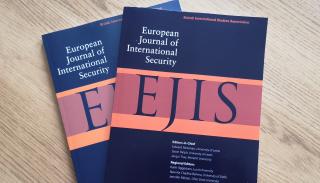 Have you considered submitting an article to BISA journal European Journal of International Security (EJIS)? In this interview with Jacqui True, one of the editors and Director of the Monash Gender, Peace and Security Centre, conducted by BISA Director Juliet Dryden, we discuss the aims, what they're looking for, and more.
 EJIS covers all areas of international security, including: conflict and peacebuilding; strategy and warfare; environmental, health and food security; energy, ecological and climate security; human, gender and everyday security; technology and security; and security governance.
Here Jacqui covers a range of useful information including tips for early-career researchers, how to improve your chances of success where you can meet representatives from EJIS, both in person and virtually over the next cycle of IR conferences, and two areas where EJIS is keen to receive submissions - ecological security and gender.
Jacqui also touches on the upcoming EJIS annual lecture, the call for papers for the next special issue, and a special collection on gender in security studies.
Watch the interview below to find out more.
Further reading
If you're interested in gender and security studies, visit the special collection now. It's free access until the end of December 2021 thanks to Cambridge University Press. Authors include Laura J Shepherd, Meredith Loken, Nick Vaughan-Williams amongst others.