Article
How to: International Relations tests and interviews
In this third of four 'How to' articles, Alexander Borum, an Advisor on Political and Security Affairs for the Delegation of the European Union in Somalia, looks at how to succeed in recruitment tests and interviews in International Relations. 
Alexander also produces a regular list of career opportunities, and the latest one for January is out now. You can also find more of his publications via LinkedIn.
This article was written by
Alexander Borum
This article was published on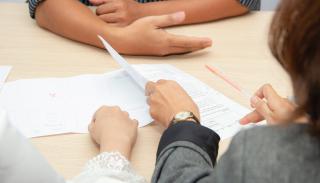 With a quality CV and cover letter paving the way towards your dream entry-level IR position, you might face a few final challenges before you land the job. Increasingly, rigorous testing and competency-based interviews have become the hallmark of entering one of the most competitive fields out there.
While both challenges might sound daunting, there is no reason to stress too much about it, failure is an essential learning experience, and it is a crucial way to gain first-hand exposure to the testing frameworks and build a routine in sitting in front of a recruitment panel. Certain career paths will take you a step further, as you have to participate in fully fledged competitions to secure just a chance for a career position; in these settings, the expectation is, in most cases, that you will need to fail a fair few times before you can pass through the process. While this might sound tough, it is sadly the price to pay to pursue a career of passion and dedication.
There is no clear-cut approach to either tests or interviews as they will be subjective to context and hiring organisation, but there are general tips that can help you prepare and increase your odds of successfully navigating the last mile of the quagmire.
This How to: article is based on survey responses on what topics would be most relevant for students, graduates and young professionals when it comes to entering the field of international affairs and will be part of a more extended series of LinkedIn Pulse articles seeking to help bridge the many challenges for entering the field, and expands on my earlier series of career primers and supportive guides for the entry-level domain.
Tests
It has become increasingly common for organisations to use testing to narrow down a pool of candidates, especially for the attractive career intakes in some of the multilateral organisations where thousands of applicants respond to a call for applications. Tests are by nature highly subjective to the organisations, so you will have to look into the specific frameworks they put in place if you are called to respond to them during an application process.
You might encounter more types of testing and face multiple tests in a given setting, but knowing a little bit about what sort of framework you are entering, gives you a good starting point. There are many tips out there, so please do not rely on this to be the end-all answer to all your questions; as soon as you know what tests might be offered, google it and read/listen to factual information on the test to get a firmer understanding of what situation you are walking into. That being said, I will quickly go through the typical tests I see for the international affairs domain.
Types
Case Studies should present little of a surprise for anyone with an academic background in international relations or associated fields. Like many times before, you will be exposed to a complex subject matter relevant to the position, and you will be asked to look over the case and present your findings. Case studies begin to differ when you switch from academic pursuits to a business-oriented effort, so consider how your case study impacts, affects or aligns with the organisation's core business and values. Pay particular attention to any concrete deliverables expected or any objectives outlined in the assignment, and produce a clear and concise product in response.
Presentations are implemented to test your ability to analyse a complex subject matter and facilitate the critical findings to diverse audiences. This is very often related to communication heavy roles and will usually take place during an interview. These tests should be somewhat routine for anyone with an academic background in international relations, so please don't worry too much about them; just remember to focus on your target audience.
Aptitude and Psychometric Tests cover different testing methods to give deeper insights into a candidate's personality and capabilities. They tend to come in the form of various IQ and Personality based testing methods. Psychometric tests can be many things, but in interview settings, it covers personality tests. They are implemented to test your organisational and positional fit; can you operate in a given context? Is your personality conducive to a good working environment? How do you handle stress? What are your response mechanisms? What motivates you? Think Myers Briggs, Belbin tests or Enneagram, and you will be on the right track. Aptitude Tests refer to testing your intelligence and are often encountered in abstract reasoning, situational judgement and mathematical or text analysis tests. Where you can't do much about your personality (beyond seeking to explore, understand and develop it), you can train yourself to improve your skills and understanding, knowing the testing framework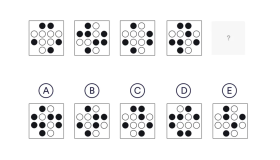 An example of an abstract reasoning question; fill in the blank...
E-Tray testing tends to be true-to-work tests where you are put in front of an email inbox, and within a limited timeframe, you have to prioritise and time-manage to solve sometimes impossible tasks placed in front of you. For these tests, the devil is really in the details, so spend time gaining an overview of the tasks, quickly read the content to get immediate information and then prioritise what you have to do, in what order, in accordance with the urgency and importance.
Simulation games can be a bit tricky, as you need the right state of mind to quickly assume a very concrete role in a specific context to act out how you would respond to a scenario determined by the hiring organisation; very often, you will have to role-play your way through situations where there are no right or wrong outcomes, but where the process is more at the forefront. You will often be put under pressure in a problematic scenario relevant to the role, so use your common sense and research to guide you forward.
Group tasks focus on your abilities to operate in a team setting and will often also measure interpersonal skills such as communication, leadership and ability to influence a process. Group tasks often combine different test types but adapt them to a team setting. This can efficiently boil down a large pool of applications into a more manageable size and is mainly used by larger organisations.
Competitions
For certain career programmes with multilateral organisations, you will see an incredible level of obstacles you must pass through to get a career-enabling position. Many Ministries of Foreign Affairs will have yearly intakes where hundreds if not thousands of applicants, all sharing a dream of a career in diplomacy, will be pitted against strict and highly competitive testing regimes. A particularly well-known competition is the EU Concours; the regular intake of AD5 Generalist Administrators; or, in non-EU terms, its intake of entry-level civil servants.
Registration begins, and upwards of 50.000 applications start registration. Usually, 10.000-20.000 will not finalise the extensive process. During the registration, you will be asked to provide concise answers to several questions. You will also be asked which languages you will be tested in, usually your native language and one of the other official languages.
Computer-based tests follow for anyone validated at the end of the registration deadline, and everyone is invited to a controlled testing environment for tests in Abstract, Numerical and Verbal Reasoning, alongside a test in Situational Judgement. Failure is automatic for grades below 50-70%, and onward selection is usually only for the top 1-2%, who will be put forward for the next steps.
Assessment centre testing constitutes the final challenge; you will be tested through group exercises, oral presentations, case studies and a competency-based interview. This part of the testing regime cuts the group to its final size before putting them forward to the EU institutions.
At the end of the journey, successful applicants are put on a Reserve list. Usually, this list is limited to a few hundred or upwards of a thousand positions, but being on the list is not a job guarantee. Instead, it is a candidate shopping list from which the institutions can pick and choose entry-level civil servants. If selected, any on this list will have a career in the EU more or less guaranteed, and this can be quite attractive for anyone dreaming of a life in multilateral diplomacy.
The process takes about a year, and the vast majority of candidates for the EU competition will be heavily prepared for the challenge. Anyone serious about this opportunity will at least do test exams in advance on official or third-party sites and read a third-party guidebook on the EU AD5 Concours. Over half of all applicants will have undergone training or personal coaching to get in. The reality for most who get through the process is that multiple attempts are needed, so even if this can be an incredibly challenging and stressful endeavour, each failure leaves you with important lessons that you can use in many different testing frameworks.
     Each failure leaves you with important lessons.
Interviews
Job interviews can be daunting, particularly in cases where the road leading up to the interview has been exceedingly long and filled with challenges. After spending months or even years reaching the final stage of landing an entry-level dream position in international affairs, it's important to walk into the interview room with a good understanding of what is waiting inside.
Planning
While I may sound like a broken record, I must mention the importance of doing your research. Before you sit down for your interview, you need to have a very fundamental understanding of the role; this can be accomplished by desk researching a bit, looking over the job listing, going through the organisation's website and looking over social media presence, or if you are lucky, going through newsletter archives.
Going through requirements, essential skills, and desirable skills gives you an excellent initial impression of what questions you might be getting.
Practicalities
When you are invited for an interview, it's good to have a general idea of what to expect. Usually, you will have around a week to prepare for an interview, but in specific settings, 48 hours is all you have to work with. The verdict can come a fair bit after submitting your application or conducting an interview, so please save all your application documents somewhere safe.
You will rarely be the sole person invited for an interview, so expect to have around four other competitors shortlisted for a position. This is both a matter of selecting the best candidate and ensuring that reserve candidates are available if the recruitment of a first selection doesn't go through.
Your interviews can be either online or in person; if it is online, please make sure that all the technical arrangements are made and that you can sit in a quiet and professionally acceptable location to take the call. If in person, you might be asked to come to a different place, so look into the logistics for it well in advance; you want to avoid surprises. If it is out of your way, it is perfectly reasonable to ask the HR rep what reimbursement schemes are in place, if any.
When you get to the interview, you can expect it to take around an hour, but please don't worry if it takes less or more, especially if the interview takes on a more conversation-styled nature or if you can provide concise answers to everything.
Most often, you will be interviewed by a panel, mixing subject matter experts with line managers and HR professionals; you will be outnumbered, but this is standard practice and will make the interview more fluid. Each panellist will likely bring their types of questions to the table and have some expert knowledge of them, be they practical questions or related to your subject matter.
After the interview, you can expect to hear back within 2-3 weeks; quite often, you will be informed of the timeline ahead; some may decide within days, and others will need months.
Competency-Based Interviews
The standard framework for job interviews in international affairs is CBIs, or Competency Based Interviews. They differ slightly from regular, unstructured interviews, where more straightforward questions pave the way for a conversation between the panel and the interviewee. In CBIs, we have a more systematic approach to addressing your fit for the core competencies of the position; this means much narrower questions with clear anchors in your past experiences. This is a bit more demanding than a regular interview for both parties, but it is by far the most appropriate in terms of quality and matching the right candidate with the job.
Questions
Questions will vary heavily depending on the type of position; after all, there are significant differences between programme managers and diplomats in terms of skills, responsibilities and competencies. However, there are general questions you can be asked in any setting, and they can help you understand how questions are framed and how you can respond to them.
The UN provides a few example questions that you might be asked during a CBI:
Question: Tell us about a challenging assignment when you exceeded your manager's expectations.
Question: Give an example of when you used your problem-solving abilities to resolve an issue between staff members.
Question: How have you handled situations when you had several demands being made for delivery simultaneously?
Answers
Structured questions require structured answers, and it is beneficial to get into the habit of answering job interview questions in a systemic manner to ensure that they deliver exactly what is expected by the interview panel.
There are three fundamental methods of answering questions in a structured manner; CAR, STAR and SMART, arranged in order of complexity below: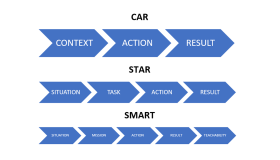 Models for structured answers
The logic in all three frameworks remains the same, but the key difference is in the complexity of your response; it is terrific to start things out easy and develop your methods over time.
CAR or Context, Action, Result is a simple yet structured answer:
Context - Describe the situation or set the scene for a relevant example from your past; make sure to make your example scenario as appropriate as possible.
Action - Describe what action you took to solve a problem or address a situation; the more specific you can be in your response, the better!
Result - Describe the outcome of your action; the more specifics, the better, especially if you can quantify an effect - which is sadly not easy in international affairs.
STAR or Situation, Task, Action, Result is an intermediate response to a structured question. it is close to the CAR method, but with the addition of task and context changing the name:
Situation - Describe the situation or set the scene for a relevant example from your past; make sure to make your example scenario as appropriate as possible.
Task - Describe your role or responsibility in connection to the problem or assignment; did you manage a team? was it your area of responsibility? Were you the only one with a relevant skillset?
Action - Describe what action you took to solve a problem or address a situation; the more specific you can be in your response, the better!
Result - Describe the outcome of your action; the more specifics, the better, especially if you can quantify an effect - which is sadly not easy in international affairs.
SMART or Situation, Mission, Action, Result, Teachability is a complex response to a structured question; it uses the same logic as CAR and STAR, with the addition of teachability, a learning outcome for you as an individual.
Situation - Describe the situation or set the scene for a relevant example from your past; make sure to make your example scenario as appropriate as possible.
Mission - Describe your role or responsibility in connection to the problem or assignment; did you manage a team? was it your area of responsibility? Were you the only one with a relevant skillset?
Action - Describe what action you took to solve a problem or address a situation; the more specific you can be in your response, the better!
Result - Describe the outcome of your action, the more specifics, the better, especially if you can quantify an effect - which is sadly not easy in international affairs.
Teachability - describe what you learned from overcoming the challenge, solving the task or addressing the situation.
Example
Question: Can you give me an example of having to complete a task within a very tight deadline?
I usually try my best to plan out my assignments in advance but remain flexible when a sudden need arises, and I pride my ability to perform well under pressure. This was definitely the case for implementing the XXX project in XXX.
While a colleague was expected to have initiated this specific XXX project, a sudden outbreak of COVID-19 in XXX sadly affected him, and my line manager asked me to take over responsibility for the project at the last minute.
With only a limited time before the scheduled project implementation, I swiftly familiarised myself with the project subject matter, established a working group, and delegated the work according to individual expertise to facilitate a successful launch.
In a well-coordinated team effort, the project was initiated without hiccups and with burden-sharing, regular tasks were managed promptly.
The process took work. Still, I learned a lot about my capacity for working under stressful conditions and the critical importance of empowering team members to solve complex challenges.
Tips
While many challenges are faced as part of a team, it is crucial that you make yourself stand out, so please focus on the "I" and not the "WE" - it helps you stand out as a unique character with something to offer.
When you frame yourself, try to be as concrete and measurable as possible, it is a lot easier to understand just how amazing you are if you can quantify it somehow; this is somewhat hard in international affairs, and recruiters know this, but measurable impacts can be just as beneficial to mention as economic metrics.
Power up your answers using strong language; action words are important in emphasising your capabilities during the interview, and building them into your vocabulary is crucial. Using action words is a handy way of highlighting your abilities during the interview and a great way to enhance the way you market yourself.
Remember that you are judged based on your responses and your actions, so while interviews might get stressful, it's crucial that you remain calm and composed; it is okay to be anxious about an interview; it is a big deal, but building rapport is a lot easier if you are emotionally stable during it.
End questions
At the end of the interview, you will typically be allowed to ask any questions. This is an outstanding opportunity for you to show your motivation and interest in the position. While looking over the position, you might have a handful of questions that come to mind, so please jot them down on a piece of paper and make sure to ask any questions to which answers didn't come up in your interview.
Beyond that, general questions might be interesting to raise in an interview setting. You can enquire about personal development support; if the organisation has a training support framework to help young professionals like yourself further develop. As a young professional, knowing what kind of supervision you can expect in your position is also relevant. A great final question is to ask if there is anything that we still need to cover that might be interesting for the panel to have clarity on. It is a catch-all question that paves the way for an excellent natural ending, but it might raise a few additional questions.
Non-verbal's
While answering the actual interview questions will be the deciding factor for your interview, it is essential to be aware that you portray more than you might realise, so extra attention to how you look and act is worthwhile.
A standard assumption is that people you meet will make up their minds about you within 30 seconds. Since you want to start on a positive note, it is an excellent investment to take some extra time to decide what to wear and how you present yourself in the interview.
What you wear matters, so pick out a good quality suit, dress or outfit that matches your perception of the organisation; again, rely on your research of the organisation. Some organisations remain quite formal, while others remain more casual and dynamic, which will help you seem like a good match, at least on the surface, to the organisational culture.
Dressing into work clothes is a bit like putting on a uniform; you step into your professional role, which helps put you into a more confident and focused mindset.
Your behaviour and manners also play a role, so from when you step into the building until the moment you leave it, make sure that you are polite, greet and smile to those you meet, and conduct yourself in a professional manner. While you wait for the interview to start, it might be tempting to flip through your phone; it might not give off the most professional vibe; so see if there are alternatives; quite often, there are industry magazines or publications available in waiting areas, and it's an excellent way to show that you are interested in the organisation or its domain of engagement.
Your body language also plays a critical role, and it's essential to work on making your non-verbal communication work for you, especially in an interview setting. Some aspects of addressing your non-verbal's will remain out of your control, such as choosing where to sit, but try to roll with it; ideally, you sit comfortably to see and engage with the entire panel. When you sit down, please ensure good posture and a comfortable distance to the table between you and the panel; about 10cm gives you enough space to move and gesticulate.
During the interview, you slowly build rapport, and body language is effective in helping this along. A firm handshake, a light smile and proper eye contact will take you quite far and make you feel more confident. Mirroring can be an excellent non-verbal cue to advance rapport building and make it subconsciously seem that you are all getting along; this can be tricky in a panel setting, but if you see your interviewers become increasingly relaxed in their posture, it's an excellent chance to lean back a little extra and from there, continue the conversation.
For those wanting to dig further into this, please look at this TED Conferences session "Your Body Language May Shape Who You Are" by Amy Cuddy for some excellent insights into this domain!
Nerves
Let's face it, interviews put you under a lot of pressure, and sometimes we let our nerves get the best of us, knowing that so much is riding on a single interaction. Don't worry too much; you would only have a seat at the table if your profile were cut out for what the panel expects of you.
On the day before the interview, recap the necessary details during the day, but make sure to push it aside by the afternoon to let your mind rest. Ideally, you exercise and burn off some of the tension you have in your system, and once you get home, hydrate, eat a proper meal and hit the sack early; basic methods that go a long way to minimise cortisol in your body.
On the interview day, recap your notes and take a deep breath before you head out; at this stage, you should be very prepared for a job interview. Everyone gets a little nervous, and recruiters know this, so you can expect them to understand if you fumble a question or two, so there is no need to panic. Being nervous is just a mind game, and if you walk into an interview room knowing you are well prepared, then I can promise you that you will feel much more confident about it.
Top image provided by Van Tay Media on Unsplash