News
Meet the new Postgraduate Network (PGN) committee
This article was published on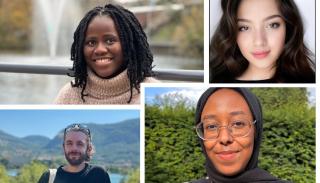 We're delighted to introduce you to the new PGN committee for the next academic year.
We welcome back former Vice-Chair, Ndidi Olibamoyo, as the new Chair. We also welcome new committee members Assala Khettache, Vice-Chair, Aida Hassan, Communications Officer, and Adam Barnett, Election and Events Officer.
Last, but certainly not least, we thank Chester Yacub, Massimo D'Angelo and out-going Chair, Shivani Singh, for their hard work.
Ndidi Olibamoyo - Chair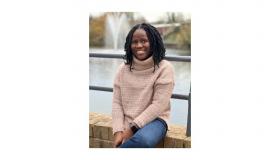 Onyendidi Olibamoyo is a dedicated PhD candidate in the Department of Politics and International Studies at the University of Bath. Her doctoral research delves into the dynamic role and influence of African states within global cyber norms processes. Prior to this pursuit, Onyendidi obtained a BA in History and International Relations from Redeemer's University Nigeria, and subsequently, an MA in History and Strategic Studies from the University of Lagos.
With prior experience as a Graduate Assistant and Researcher at Redeemer's University, Onyendidi brings a wealth of insight to her academic journey. Her research pursuits encompass cyber diplomacy, security studies, and the intricate landscape of African politics.
Beyond academia, Onyendidi cherishes moments with her family and actively contributes to the Postgraduate Network. You can connect with her on social media via @OnyendidiO and @Onyendidi.
Assala Khettache - Vice-Chair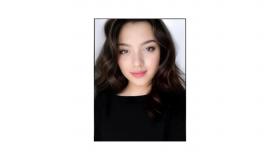 Assala is currently a second-year PhD candidate in the Department of International Politics at Aberystwyth University in the United Kingdom. Her academic journey commenced in Algeria, where she distinguished herself as the national valedictorian while pursuing her bachelor's degree in international relations. She continued her educational pursuits by completing a master's degree at the Social Sciences University of Ankara, Turkey. In 2021, Assala achieved the highly esteemed Erasmus Research Fellowship, affording her the opportunity to conduct research at King's College London within the Defense Department. In addition to her academic endeavours, Assala actively collaborated with the Editor-in-Chief of Insight Turkey, an academic journal dedicated to politics and international affairs. Furthermore, in the last two years, she played a pivotal role in managing a research project centred on the Libyan crisis.
Assala has received both the Aber Doc scholarship and the President's scholarship. Her current PhD research delves into the operations of Russian private military companies in Africa, shedding light on a pivotal facet of contemporary international politics.
Aida Hassan - Communications Officer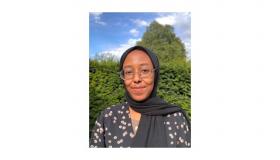 Aida is a third year PhD student in the Centre for Public Health and Policy at Queen Mary University of London. Her research focuses on global health governance and the challenges of state-centrism in health emergency responses in Yemen and Syria through a critical sociological outlook of the state. Before her PhD, she worked briefly in academic publishing and as a researcher in the third sector, investigating the impact of the Hostile Environment on the education and employment rights of refugees in the UK. She is excited to work alongside the BISA PGN committee this year as the Communications Officer!
Adam Barnett - Election and Events Officer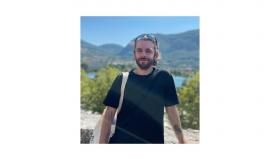 Adam is a second-year PhD student in the School of Political and Social Sciences at the University of Lincoln, UK, and is currently based at the Department of Sustainable Development at Utrecht University (NL) as a Visiting Researcher. He holds a Masters in Environmental Policy and Regulation (LSE) and Bachelors in Philosophy (University of Bristol). His research explores the United Nations climate and biodiversity negotiations; in particular how populist-led states interact with and disrupt state-led negotiations. Prior to starting his PhD he worked for the UK Labour Party and UK-based environmental NGOs in the field of political campaigning and lobbying.