News
Postgraduate Network Conference Series 2021
This article was published on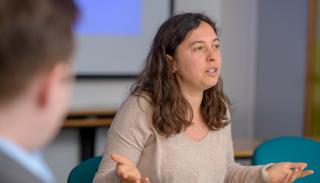 Due to the continuing extraordinary circumstances presented by the Covid-19 pandemic, the BISA Postgraduate Network (PGN) will be holding online events in place of a physical conference in 2021.
We recently polled you, our membership, on what form you'd like these events to take. You told us, and we listened: 65% of respondents indicated that they would prefer an expanded, open events programme spread out over the year, as opposed to a single conference-style event. Accordingly, we are delighted to announce that we will be running a series of panels, roundtables, and workshops from February to July 2021. We invite individual paper and panel submissions to the Conference Series.
Format: please read carefully
Between February and July inclusive, we will be running one event per month. We have structured the series order to allow for a combination of individual and panel submissions. While there are no strict guidelines regarding the length of sessions, we are sensitive to 'Zoom fatigue' and suggest that each event does not far exceed approximately two hours in duration.
The exact format is as follows:
The PGN Committee will convene three panels, broadly covering how International Studies relates to the topics of Covid-19, Climate, Environment and Anthropocene, and Security and Conflict.
We invite individual paper submissions for these panels. You can find the Call for Papers for each topic below.
We invite members to submit applications for a further three open panels. You may choose your own format for these events: they may be traditional chaired panels, roundtables, workshops, or something different.
Of these three open panels, two are open to any subject matter, topic, or sub-field of international studies.
One open panel is reserved for the discussion of issues surrounding race, racialisation, and (de/post-) coloniality.
The deadline for both individual and panel submissions is Sunday 17 January 2021. Submissions should be sent to bisapgnexec@gmail.com.
Please see the full Call for Papers and Call for Panel Submissions below. If you have any questions about the Series, do not hesitate to contact us at bisapgnexec@gmail.com.
Please note that participation in the Conference Series is free of charge, but that participation and attendance will be open to BISA members only. You can join BISA here: student membership costs just £30.
Call for Papers: individual submissions
The ongoing Covid-19 pandemic has challenged us all in different areas of our lives: personally, professionally, and now intellectually. Scholars of International Studies in particular must grapple with the ways in which the pandemic disrupts or informs our understandings of human connectedness, borders and bordering, the integrity of the nation-state, and globality at large. Coincidental with an apparent partial retreat of liberal world order and nationalist revanchism, Covid-19 has been a stark reminder of our unavoidable interconnectedness. We have chosen three topics for our closed panels which we hope will intersect with your research interests and enable you to draw linkages between your work and unfolding global processes.
Panel 1) Covid-19 and International Studies: Globality Redux
No matter our research interests, all of us will necessarily confront the knock-on effects of Covid-19 through our work. We invite paper contributions which address any of the many intersections between Covid-19 and International Studies. These may be of a conceptual nature, addressing the pandemic itself through a theoretical lens, or they may examine the ways in which Covid-19 impacts on your own research topic. For instance, burning issues racial of injustice and racialisation have re-entered public discourse during the course of the pandemic, intersecting with epidemiology and state-based responses in unprecedented ways. Information technology has become more central than ever as our lives take place on Zoom. Covid-19 also has clear implications for security, climate change, gender equality, and questions of international responsibility. In addition, those of us conducting empirical research will face methodological issues surrounding face-to-face contact, distancing, and travel. Methods papers are therefore also very welcome.
Panel 2) Climate, Environment, and Anthropocene
Humanity is faced with a number of inter-related and unprecedented environmental crises. Some scientists and scholars have controversially adopted the Anthropocene as the name our current epoch. Biodiversity loss and climate change are but just two issues that have made international headlines in recent weeks and months. This call solicits papers that attempt to analyse either the politics of policy and governance responses and/or forms of resistance to contemporary environmental change from the local to the global level. Papers may or may not include a sense of hope, optimism or what Anna Tsing refers to as 'gardening in the ruins'. We encourage a broad range of methodological, empirical, thematic, and disciplinary approaches to analysing environmental change. We particularly welcome intersectional, feminist, post/decolonial and post-humanist theoretical approaches.
Panel 3) Conflict and Security
Our final panel will address issues surrounding conflict and security, a sub-field in which many of our members will be conducting their research. This is a broad and diverse field, and we would like our panel to reflect that. We are open to papers that address topics including but not limited to: warfare, human security, securitisation theory, the concept of security, emotions in security studies, or more broad contributions to the study of security. More specifically, we are especially interested in critical approaches to security studies. We encourage contributions that are theoretical in nature, as well as those based in empirical and historically informed work.
Please send an abstract of not more than 250 words, along with an indication of which panel you would like to participate in, to bisapgnexec@gmail.com by midnight on Sunday 17 January 2021.
We will inform you whether your submission has been successful by Monday 25 January 2021.
Call for Panels
We are further requesting submissions for events convened by our membership. BISA PGN members are invited to convene events related to their own research interests or general subject areas. These events may take the form of a panel, workshop, roundtable, or something different. Open panels can address any subject matter or issue relating to international studies or world politics (broadly conceived) and may approach the topic through a range of empirical, conceptual, or methodological lenses. We invite submissions for two open panels.
Further, we invite submissions for one panel addressing the broad issues of race, racialisation, and (de/post-) coloniality. We have chosen to reserve one panel slot for this subject matter in recognition of the events of 2020, which drew unprecedented public attention to the Black Lives Matter movement, structurally-embedded racial injustice, and the linked imperial and colonial histories of many Western states. While this struggle is not new, the widespread social and political upheaval that emerged in 2020 has presented new opportunities to advance the cause of anti-racism and global justice. We wholeheartedly support these efforts. Like the open panels, submissions may address one or more of these issues through a broad range of empirical, conceptual, or methodological lenses.
How to convene and submit a panel or event
Panel submissions should include:
a maximum 250-word description of the panel, along with a maximum 250-word abstract for each presentation, collected by the convenor
name the convenor and each participant
If you would like a member of the PGN Committee to fulfil chairing duties on your panel, please indicate this in your submission.
If you are convening a traditional panel or roundtable, we ask that you include at least three participants/papers. If you are looking to run a workshop or another event format that is not structured like a traditional panel, please indicate this in your submission and tell us how you plan to fill the two-hour time slot.
Please send all requested documents to bisapgnexec@gmail.com by midnight on Sunday 13 January 2021. Please also contact us if you would like us to circulate a Call for Papers for your prospective event.
Provisional schedule (dates subject to change):
Wednesday 10 February 2021: Panel 1)  Covid 19: Globality Redux
Wednesday 10 March 2021: Panel 2) Climate, Environment, and Anthropocene
Wednesday 14 April 2021: Panel 3) Conflict and Security
Wednesday 12 May 2021: Open panel - TBC*
Wednesday 16 June 2021: Open panel - TBC*
Wednesday 14 July 2021: Open panel - TBC*
*One open panel slot to be allocated to the discussion of race and racialisation in International Studies.