Article
The Military Ties Between African Ruling Parties and North Korea
In the latest of our Africa and International Studies blog series, Tycho van der Hoog provides a summary of the paper that was awarded the BISA African Affairs Postgraduate Paper Prize for 2021. This prize is awarded for the best paper on a topic related to Africa, presented at either the BISA Postgraduate Network Conference or the BISA Annual Conference, by a postgraduate student.
This article was written by
Tycho van der Hoog (Leiden University)
This article was published on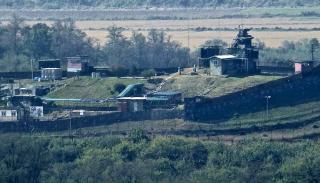 Foreign military advisors in Africa are nothing new. Notable examples are the French anti-insurgent operations in West Africa, the Russian mercenaries from the Wagner Group in the Central African Republic, or the United States Africa Command (AFRICOM) in East Africa. North Korea's military role on the continent, however, is largely unknown. Yet, in recent years Angolan armed forces were trained by Democratic People's Republic of Korea (DPRK) advisors, a Namibian military base was extended by North Korean experts, Tanzania has signed military contracts worth over €10 million and Mozambique has acquired air defence systems from North Korea.
North Korea's frequent ballistic missiles tests and controversial nuclear programme often makes international headlines, but this is commonly understood as a domestic programme intended for state survival. In general, the DPRK is usually thought of as a secluded and isolated nation. The paper that I presented at the BISA Conference in 2021 seeks to rectify this. The aim is to understand the African-North Korean military relationships.
There are two disconnected bodies of literature that deal with North Korea's external military activities. The first is historical in nature and recognises North Korea's role as an exporter of arms and training during the Cold War. This is often misunderstood as communist aid and was discontinued following the economic collapse of North Korea in the 1990s. The second is a set of policy documents that uncover sanction-busting military activities in Africa. Such details are usually buried in thousands and thousands of pages of United Nations Panel of Expert reports, a committee designated to monitor the effectiveness of the international sanctions regime against the DPRK. 
The challenge is how we can connect these two bodies of work. In the case of southern Africa, the key to unlock this question are the national liberation movements that today govern most of the region, and have been aptly described by Henning Melber as 'liberation governments'. Countries such as Angola, Mozambique, Namibia and Zimbabwe are ruled by political parties that originate from liberation movements that opposed colonial or white-minority regimes in the second half of the twentieth century.
My paper identifies three eras in which African political elites benefited from military ties to the DPRK. Between 1960 and 1980 North Korea helped liberation movements to achieve power through the gifting or selling of military hardware and training operations in the Frontline States or in Pyongyang. During the next two decades (roughly from 1980 to 2000) several newly independent African regimes were aided with the consolidation of their power through the establishment of presidential guards that were trained by Korean advisors. From the early 2000s onwards - despite the introduction of the most extensive sanctions regime in history - several African governments utilize North Korean repair services and updated military equipment for their national armies in order to maintain power in a time of growing domestic opposition to their continuous rule.
I utilize an eclectic collection of novel source material to study this relationship: British and Korean diplomatic sources, African liberation archives, and the undervalued UN Panel of Experts reports. I was also able to interview a former North Korean diplomat with extensive working experience in African embassies. This allowed me to uncover lots of new historical evidence of military cooperation.
More important, however, is the main takeaway of my paper: the necessity to appreciate and study African agency if we seek to understand African-North Korean ties. The study of African international relations has been dominated by the question 'how external actors determine African realities' instead of the other way around, as William Brown and Sophie Harman observed in their introduction to African Agency in International Politics (an edited volume coincidentally organized out of the BISA Africa and International Studies Working Group). By focusing on North Korean interests and activities we are overlooking the motives of African political elites and what they stand to gain by engaging with the DPRK in this way.
I argue in my paper that the intimate relations between African political elites and North Korea have undoubtedly changed over the years but remain relevant up until this day. Brown and Harman propose to take African preferences seriously and to 'focus on interaction, rather than one-way domination'. Through this lens it becomes clear that southern African liberation movements utilized North Korean military support, whether this was training or military hardware, for pragmatic motives, not ideological convictions. Even when geopolitical circumstances changed in dramatic ways – through the victory of independence or the collapse of the North Korean economy – the African-Korean relationship was moulded in a way that was beneficial to local needs in southern Africa. This is the main reason why such engagements stood the test of time.
Photo 'North Korean military post' by Simon Bleasdale
License: https://creativecommons.org/licenses/by-nc/2.0/legalcode