News
Call for papers - CPD mentorship workshop: Abolitionist thinking as an unanswered question
This article was published on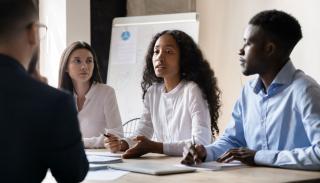 The Colonial Postcolonial Decolonial Working Group (CPD) is inviting its early career and doctoral scholar members to submit papers to a mentorship workshop, (provisionally) taking place September 23 (1.00-4.00) & 24 (1.00-4.00), 2021 (online), on the theme of 'Abolitionist thinking as an unanswered question'. This is also an invitation for our more established colleagues to help support and mentor this work.
Workshop theme
In light of increasingly sinister attacks on anti-racist praxis in academic spaces and scholarship across the globe, the workshop is part of a year of activities through which we, as a community of colonial, postcolonial and decolonial scholars, carve out space for collective responses.  We are inviting our early career colleagues to submit work that speaks to a range of colonial, postcolonial, and settler colonial contexts, past and present, in order to:
1) Contribute to the intellectual project of conceptualising abolition as fundamental to scholarly inquiry within international politics/international studies; and
2) foster greater trans/interdisciplinary work on the question of abolition that challenges existing siloes in academic and political praxis on these themes.
From the physical sites of prisons/military complexes; to the legal and bureaucratic infrastructures that produce carceral life; through to the deeply colonial and capitalist structures that organise our everyday intimacies; our suggestion is that all struggles, all violences, all structures can be framed through the lens of abolition. Although academic training can lead us too quickly to the assertion of certainties, abolitionist thinking, we hope, opens the possibility of creativity through uncertainty, experimentation in the service of justice,  with the idea that as we reveal, we also refuse, challenge, produce and create new things. Abolitionism, while it has a specific history in anti-slave and anti-colonial movements, remains unfixed and open. We invite colleagues to reflect on the lessons of newly resurgent abolitionist movements, in both their refusal of institutional structures built on and through carcerality and in the insistence that the work of liberation demands that we imagine new worlds every day. The workshop offers a space to participate in that opening - stretching and extending our thinking of what abolition is, might look like, might be, from multiple different lenses, practices, spaces and experiences.
Workshop aims
The workshop will have several aims and potential outcomes, with the express purpose of supporting  early career colleagues and building a supportive space for anti-racist intellectual and political work:
1) It will be an opportunity for collective engagement with abolitionist thinking, as fundamental to our work on colonial entanglements, racial capitalism and decolonial futures. In addition to presenting individual papers, sessions will be devoted to finding the connective threads among the different pieces of work and generating new thinking on abolition, as part of a larger intellectual project.
2) It will be a platform for early career scholars to present and share their work, in conversation with their peers as well as more experienced scholars, who will act as their mentors in the development of their scholarship and writing.
3) It will be the first in a series of activities CPD will organise for turning the individual submissions into a collective volume (including reading, editing and collaborative writing workshops or one-on-one meetings, throughout the year).
What you need to do now
For ECR participants:
Along with a 100 word bio, submit an abstract by 1 August to cpd.group@bisa.ac.uk, discussing the scope of work you're hoping to produce. There are no disciplinary, temporal or spatial limits, so long as your work fits the general themes CPD is concerned with (for more details: https://www.bisa.ac.uk/members/working-groups/cpd). Instead we ask you to consider how your particular research can speak to/through abolitionist thinking. We encourage you to be creative, generative and expansive.
Participants whose abstracts are chosen will be matched to an appropriate mentor (we will try to get an answer back to participants as quickly as possible!)
A draft paper of 5000-6000 words will need to be submitted by 10 September, in order for mentors and other participants to have sufficient time to engage with them, ahead of the workshop. While this does not need to be a polished (final version) paper, it will be helpful if this is already shaped as an academic contribution, with a clear sense of what the paper argues, the literatures and bodies of thought it intervenes in, and the empirical materials used to support this. 
Please be aware that we will be asking all ECR participants to be present throughout the workshop, and will encourage all mentors to do the same - this will enable the conversation to evolve throughout the two days. If this is not possible due to work and life constraints, please talk about it with us, so we can make the workshop as accessible as possible for everyone.
For More Established Scholars:
Please consider this an invitation for you as well - we welcome volunteers from across CPD to help support the project, whether as mentors, or as engaged participants, interested in helping shape the conversation
If you'd like to get involved, please send a 100-150 word abstract, describing your work and how it relates to the themes discussed above, as well as a few words about who you are - this will help us match you to potential ECR participants.